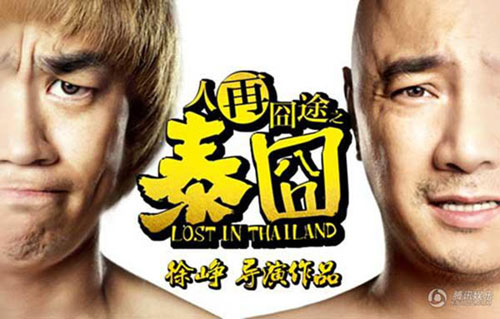 Small budget comedy "Lost in Thailand" suggests that a "down-to-earth" approach for a targeted audience can also bring success. (CNTV)
In a recent press conference, China's film administration said the country's 2012 box-office gross revenue had reached over 17 billion yuan, equal to almost 3 billion US dollars, ranking it second worldwide behind only the US.
While it's no longer news that China's movie market is rapidly expanding at an annual speed of over 30%, there were a couple of "firsts" for Chinese film in 2012.
"In China's film history, 2012 was a remarkable year. Remarkable, that it's the first year that 14 more American films have been contracted to enter Chinese mainland's cinemas. Remarkable, that it's also the first time that these imported films have grabbed more than a half share of the market. It's also remarkable that the highest box-office record for domestic films have been refreshed twice in this single year. It's a carnival for Chinese audiences, but not for Chinese movie makers."
In 2012, China produced feature films at a rate of two per day. But less than one third of them made it to the big screen. And, out of the 2.7 billion dollars collected at Chinese box-offices, local movie-makers took in less than half, as Hollywood blockbusters bombarded Chinese theaters.