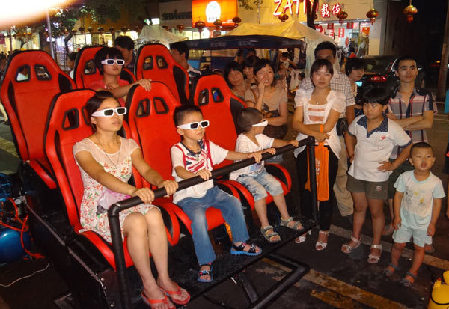 Residents watch a 5D movie as their seats move along with the movie, at a night market in Dongyang, Zhejiang province. Bao Kangxuan / for China Daily
Many Chinese people are shunning cinemas because of sky-high ticket prices and a lack of diverse movie options, a study suggests.
Of the 5,000 people polled, more than 65 percent said they have not visited a cinema within the last year, although 52 percent said they would be interested in doing so.
The study was done by the Guangzhou Public Opinion Research Center in 423 cities and counties in 23 provinces and four municipalities.
Thirty-one percent of respondents said tickets prices are too expensive, while 50 percent said they would like to see prices lowered.
The Ministry of Culture has laid out a plan to promote cultural industries from 2011 to 2015, saying it is important to cultural development to offer citizens operas and movies.
However, although 72 percent of those polled agreed with the statement, 36 percent said their movie needs cannot be satisfied locally.
In addition to lower ticket prices, the respondents said they would also like to see more movies, as well as more and better cinemas.
Some said they are hoping for more big productions, more diversified movies and more outdoor movies.
At a news conference on movie-fund management last week, Tong Gang, head of film administration bureau for the State Administration of Radio, Film and Television, said the issue of high movie-ticket prices will be addressed.
This year, six of China's top filmmakers, all members of the national committee of the Chinese People's Political Consultative Conference, including Zhang Yimou and Feng Xiaogang, called for cheaper cinema tickets.
Cinema tickets at a shopping mall in central Guangzhou, Guangdong province, for example, cost between 40 yuan ($6) and 110 yuan.
However, Xu Binbiao, general manager of the Pearl River Cinema Circuit, said the tickets are not as expensive as they appear because discounts are available, such as through bank-card payments and online purchases.
A ticket costs only about 40 yuan on average in Guangzhou in reality, with full-price tickets accounting for less than 10 percent of the total, he said.
The existing listed prices were set 10 years ago and are actually going down, considering the higher cost in running cinemas.
An immediate price cut could create losses given the contracts already signed with partners, but Xu said they are working to make the listed prices and discounts more reasonable.
"I also hope for lower prices so that more consumers will come to boost sales and bring a boom to the market," Xu said.
Shu Meng contributed to this story.
By Li Wenfang in Guangzhou