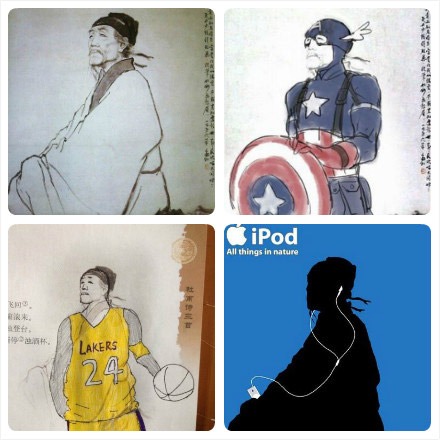 The original image of Du Fu from a Chinese text book and the parodies by a PR team. [Photo/Weibo.com]
A parody of a well-known poet that has swirled around China's cyber world in recent weeks is actually a sophisticated online marketing ploy to promote a museum, Jinling Evening News reports.
Caricatures of portraits of Du Fu (AD 712-770), one of China's greatest poets and still a household name today, was rampantly circulated on Sina Weibo, China's largest micro blog, since early March.
"Most of the images of Du Fu have been made and released by our team," said Xue Yongyu, an expert on Internet marketing and promotion. "It is part of the project we are doing for a museum in an attempt to arouse more attention to it."
But he refused to disclose the name of the museum.
Du Fu Thatched Cottage, arguably the most famous Du Fu museum in Sichuan province, declined any involvement when reached by the local Tian Fu Morning Paper on Thursday.
This year will be the 1,300th anniversary of the poet's birth year.
The controversy surrounding the Du Fu parodies has excelled the imagination of the team behind it, who churned out a number of fashionable, sometimes vulgar images of the famous anxiety-prone poet as a motorcyclist, athlete and even a superhero in a comic, stirring up a craze online while also drawing an outcry from academic circles.
"To modify Du Fu's portraits is ignorant and tacky. It is a disrespectful gesture to the traditional culture to see that he becomes popular in this way. It should be completely forbidden," said Ma Xinchao, president of the Poetry Association in Henan province.
Xue, on the other hand, said Ma and those who share his opinion, are overreacting.
"Why so serious," he says. "It is just for entertainment. It's not bad to make Du Fu get back into people's memory."
Source: chinadaily.com.cn