A Wealth of Chinese Springs
Gurgling springs and fountains are like quiet, pure maidens secluded in the wilderness, and there is a great number of myths surrounding them. Here is a list of the most renowned springs and fountains in China.
Butterfly Spring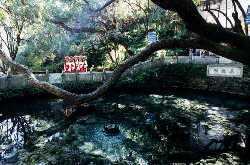 Located in Shen'ao Mountain in Dali, Yunnan Province , Butterfly Spring is known for its limpid water. At the banks of the spring are huge silk trees that excrete a special kind of oil.
Butterflies are lured to this secretion and, as a result, usually abound near the spring, especially at the beginning of summer.
Yueya Spring
The name "yueya", which literally means "crescent" in Chinese, came from the spring's special and beautiful shape. The spring was also reputed as the No 1 spring in the desert due to its special location. Surrounded by sandy hills, many aquatics now grow around the spring, forming a natural wonder in the desolate wilderness.
Cheque Spring
The Cheque Spring, located 45km northeast of Tengchong county, Yunnan Province, emits a stinky and toxic mist that can cause headaches, nausea, suffocation and even death. Even birds flying over the spring cannot survive the poisonous air - hence its name, which literally means "bird-killing spring." Dead rats, cats, snakes, birds, etc, can be found near the spring due to the surrounding volcanic activity.
Female and Male Springs
On Duoxi Mountain, Pingba county lie two springs, where one flows only in spring and summer, and the other in autumn and winter. For local dwellers, therefore, fresh spring water is available all year round.
Shouting Spring
Located 5km north of Shou county in Anhui Province , Shouting Spring is associated with the decibels in one's voice. It is said that shouting loudly near the spring produces a stronger current.