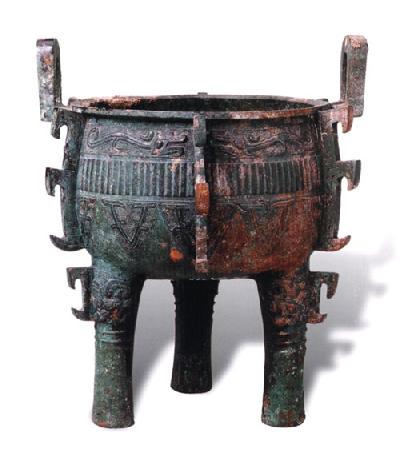 Water Ding (19cm high and 16cm wide)

The Zhou Dynasty existed approximately from the 11th century BC to 221BC, lasting more than 800 years, with 34 kings. In the 11th century BC, King Wu of the Zhou vanquished the Shang Dynasty and established the Zhou Dynasty, founding the capital in Hao (southwest of Xi'an City in Shaanxi Province). In 256BC, the Zhou was conquered by the Qin.

The Zhou was originally a dependent state to the Shang Dynasty (17th-11th century BC). According to legend the ancestor of the Zhou tribe was Di Ku. The Zhou grew strong and extended its power during the reign of King Wen and King Wu. King Wu launched an attack on Muye, overthrew the Shang Dynasty and established the Zhou Dynasty, which is known as the Western Zhou in Chinese history.

Agriculture, economy, religion, education and art continued to prosper in the Zhou, especially the rites, which not only inherited that of the Shang but also had their own innovations. In the early Zhou, the ruler prohibited people from excessive drinking to put an end to the popularly extravagant practices of the late Shang. Bronze metallurgy continued to develop, but drinking vessels commonly seen in the Shang gradually vanished. The oracle-bone divination method was still popular in the Zhou. Unearthed oracle bones, which date back as far as King Wen, are similar to those of the Shang in shape and material.

Towards the end of the Western Zhou, the intensification of internal contradictions within the ruling class grew sharper and land and power was seized. Uprisings in the kingdom shook the ruling class to its very foundations. In 771BC, King You was killed by the Quan Rong tribe, sounding the fall of the Western Zhou Dynasty.