Thangka, A Unique Tibetan Culture
Different styles of Thangka represent different schools of paintings in Tibet:

1. Karzhi School
Karzhi is one of the schools of Tibetan paintings and sculptures styles. It is said this school follows the painting style that had been used by Karma Mikye Dorje in the Figure Measurement. Karma Mikye Dorje composed the painting him and was famous for painting calm and kind-hearted personal figures.

2. ChenZher School
ChenZher ChanMou of KhongKarLdo in Tibet founded ChenZher, which was born out of, and still uses, the ManThangPa painting style.
3. Mansale School
The founder of the Mansale School was Qiangpa-Quyang Gyel-tshap. The school's painting style is close to the ManNiang School, with characteristics of boorish lines, powerful faces, taller figures, dense colors, and fine painting techniques.

4. Karlri School
The Karlri School was founded by the Living Buddha LanMuKar ZhaXi, who combined the technique of measurement in Tibetan painting style with those of coloring and arrangement in Chinese painting. It has characteristics of large pictures and various contents. This school usually paints personage with a pleasant and pretty face and an implicit smile.

5. JeJuBi School
The JeJuBi School is a school of painting founded by Karma Quyhang Dorje, who absorbed the painting style of Kashmir based on Tibetan painting.
 
6. Manlu School
Manlu School is the collective name of the ManNiang and Mansale schools.

7. DenLu School
This school follows the painting style of scholars like ChiJar andManThang・CharKar, whohad written many art books like Figure Measurement Favonian Beads, and so on.

8. ShiGamPa School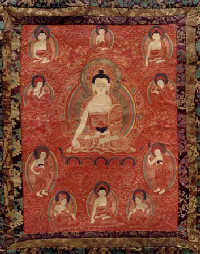 The ShiGamPa painting style and schools that have kept this painting style all are under the ShiGamPa School. The school is also called the Nepal School because of influence from the Nepalese painting style.

9. Deri School
Deri is a school that combined the painting style of the Karlri and ManThangPa schools. The school mostly pays attention to the sculpture, expression, and connotation of the people painted.

10. ManNiang School
Founded by ManlaThongZhu in the 14th century, it is the earliest painting school in Tibet. This school almost always paints either smiling or angry people, with a slim and graceful figure and lifelike expression, arrayed in magnificent clothes, and decked in fine colors. In addition, the yardstick of every position of the painted people's body is moderate.