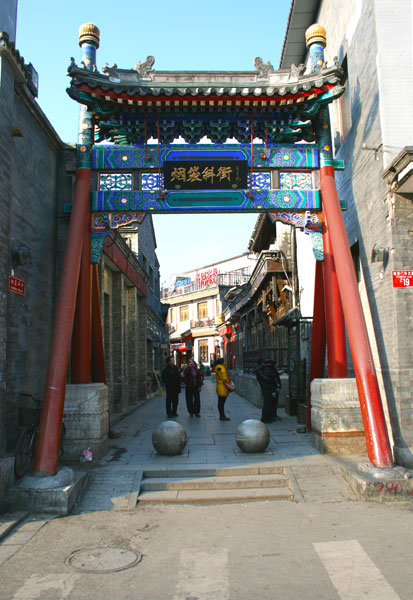 The entrance of Yandai Xiejie Hutong can be easy to miss from the busy street.[Photo/CRIENGLISH.com]
Just a hundred meters south of Beijing's Drum Tower, one of the capital's oldest hutongs (traditional alleyways) is easy to overlook. A narrow alley off a busy road, it's rather innocuous when there are no crowds of people clamoring at its entrance. Yandai Xiejie hutong's name translates to "smoking pipe" street, a remnant of the Qing dynasty days when the street was filled with stores selling tobacco and pipes.
Today Yandai Xiejie is as appropriate a metaphor as any for Beijing today. Redeveloped just prior to the Olympics, the hutong was redeveloped for tourism, but not without an eye on history. The subsequent renovations recovered some historical features while simultaneously opening the doors for retailers to get a leg up.
"Beijing hutongs are basically being transformed into commercial streets, losing their cultural richness," admits Ji, a local sales person. "It's a problem, but I'm not sure what can be done."
The hutong is undeniably commercial, but it still retains some connection with its original identity.
Antique stores survive, slotted in with stores selling Peking Opera masks, cheongsam dresses or Qing Dynasty ceramics that have been reworked into contemporary jewelry. Tobacco pipes and smoking paraphernalia unintentionally pay homage to the days of yore.
The centuries-old hutong has been developed and redeveloped, and today new stores come and go.
One employee from the Litong Antique Store has seen more changes than he can remember. "Now it's better than it was before 2007," he says, while shuffling around the cramped room. "Now it's more orderly. In the past it was really unsanitary here, and the facilities weren't very good. All the power wires have been placed underground. It's tidier. Also the architecture has been restored to what it used to be like in the Qing Dynasty."
He notes that his store which sells antiques and traditional goods is now a clear minority in the hutong. "Young people like new things, but different people have different tastes. People are from different cultural backgrounds. It's impossible for everyone here to sell old things. Or new things. People from different social classes are all interested in this hutong because it represents Beijing culture."
In Yandai Xiejie, reproductions of original buildings may be criticized by some, but at least they exist next to remnants of authentic history. Businesses such as a post office and a meat skewer restaurant have remained in operation since the Qing Dynasty.
Beijinger Meng was browsing the hutong with her boyfriend, en route to go skating on Houhai Lake. "This place is rich with Chinese character," she begins. "We used to come whenever we had free time. We would send off postcards from the post office, and also buy some small things." Although Meng does enjoy the commercial aspects of the hutong, they are not the reason she goes there. "Young people come here to experience the feeling of the past."
But it is people of all ages who visit Yandai Xiejie every day of the year. In summer days and nights, the hutong is a tourist hotspot, and people from across China and the world squeeze in for a taste of Beijing tradition. For those who prefer to avoid crowds, this Spring Festival is an ideal time to explore the hutongs, nooks and crannies. Most stores will remain open throughout the holiday.
Yandai Xiejie Hutong
Getting there: From Houhai subway station (Line 6), walk 10 minutes north on Dianmen Outer Street. From Houhai Lake, the hutong is just east of Silver Ingot Bridge.