Sanlitun/Guomao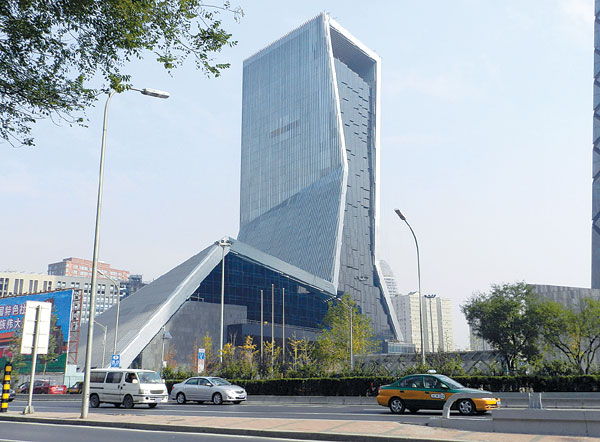 The eastern area of Beijing is the more modern or Westernized part of the city.
Guomao is the center of the Central Business District (CBD), while Sanlitun is an area of shopping malls, bars and restaurants built around the biggest concentration of foreign embassies in Beijing.
If you are tired of the tourist sites, you can unwind in the restaurants, cafes or bars on this side of Beijing. English is almost always understood.
Sanlitun is a hodgepodge of international cuisine. Spanish, Thai, Japanese, Turkish, American you name it.
One hot spot is Nali Patio at 81 Sanlitun Road. This is a Spanish-style building with restaurants, cafes, delis and small designer shops.
Opposite Nali Patio is Alameda, a popular Brazilian-style restaurant known for offering reasonably priced fusion dishes.
Sanlitun Village is a popular contemporary community, with a big Apple store and quite a number of restaurants. Union Bar & Grill, an American eatery, offers a delectable molten chocolate cake. Element Fresh is a cozy fusion spot combining Western and Asian fare.
To get a taste of Chinese cuisines in a comfortable setting, visit 1949 the Hidden City, a quiet yard adapted from an old Beijing house. Apart from Chinese food, it also has restaurants serving different types of food - Mediterranean, a mini noodle restaurant and a wine bar. The Chinese restaurant offers one of the city's best Peking roast ducks.
If you are near CBD, and feel like pampering yourself, visit Summer Palace Chinese Restaurant at China World Hotel. The restaurant offers some of the best Huaiyang-style dishes and Cantonese dim sum in Beijing, along with consistent good service.
Eastern Beijing is where most of the city's high-rises are concentrated, so it's justifiable to have afternoon tea at Atmosphere, the highest bar in Beijing, perched on the 80th floor of the China World Trade Center Tower 3.
Another bar to check out in the vicinity is China Bar, on the 65th floor of the Park Hyatt. Although not as high as Atmosphere, China Bar offers an incomparable 360-degree view of the CBD.
The bar's Chinese name, which literally means "Beijing Bright", describes the feeling when you visit the venue in the evenings when Beijing puts on her evening gown.
China Bar is also one of the best clubs to soak up Beijing's nighttime atmosphere. Order yourself a cocktail and enjoy the live jazz music.