To open school and teach the traditional techniques
Luobu spends the rest of his time teaching students of Tang-ga in his home-like school. The idea of opening a Tang-ga school originated in 2001 when he realized that the traditional method, passing usually from the parents to the children, was not enough to keep alive this cultural heritage during the expansion of commercialism. The market inLhasais overwhelmed with machine-made Tang-ga exported fromNepaland other regions, even though those products use chemical materials and may lose color after several years, Luobu said. He worries that with large-scale manufacturing the cultural and religions practices have been seriously weakened.
The school, a two story building, was rented from the monastery on the Chakpori Hill, which is on the right side of thePotalaPalace. Although Luobu has to pay around 4,500 yuan per month for the rent, his courses have been free and open to anyone interested. There's also a room specifically for students to cook for themselves.
By 2009 Luobu had educated around 100 students. Sixty of those can independently master all procedures, from pigments preparation, to sketching, coloring, application of god powder, and mounting.
"It's a very hard process. People usually need six to seven years to learn all the procedures, and you also need to spend hours in the room, so some students quit in the middle," Luobu said.
Most of the students are coming from rural areas inTibetand some are slightly disabled. Luobu hopes students not only can learn the traditional techniques of making Tang-ga but also hopes they can make a living from the work.
"Graduates can either leave to have their own studios, or they can work for me and get a salary. They are free." Luobu said.
It seems to be a good learning opportunity, but Luobu also admits that society is changing rapidly and young people can find an easier job and make more money rather than sitting for hours and days drawing the lines, patterns and motifs of Tang-ga. For a master like Luobu, he once spent over a year to complete a painting of 3 meters long and 1.7 meters wide. "Everything is handmade and it is a big challenge for my patience," Luobu said.
Tibetans enjoy the tradition of drinking barley wine, but Luobu is the few who has chosen to abstain from drinking at all for fear of damaging his mind. He explained, "You have to keep your hand stable, hold your breath, release your strength smoothly and evenly, so the drawing can be perfect. The drinking may affect the nerves."
The teaching and renovation job in thePotalaPalacehas taken a lot of his time. "I certainly can make more money if I focus on the orders of Thang-ga from all over the world, but what I want most is to keep this traditional art alive and enable more people to learn this. I don't work for money," Luobu said. He also said his plan for the future is to open a large school and recruit more students.
(A Wang from the Office of Intangible Cultural Heritage, Tibet Cultural Burea has contributed to this report.)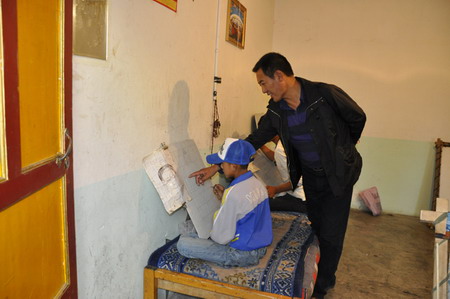 Luobu Sida teaches a 13-year-old Tibetan boy to draw in his school in Lhasa, Tibet, September 11, 2009. [Chinadaily.com.cn/Uking Sun]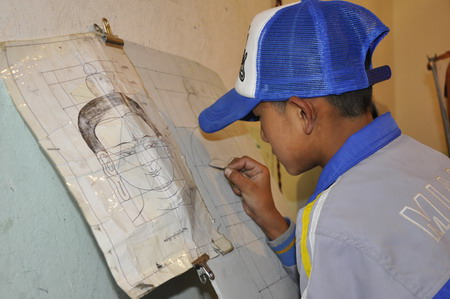 A 13-year-old Tibetan boy learns how to paint in Luobu Sida's Thang-ga school in Lhasa, Tibet, September 11, 2009. [Chinadaily.com.cn/Uking Sun]