Chinese dance drama tours US
Chinaculture.org 2014-02-12 10:43:05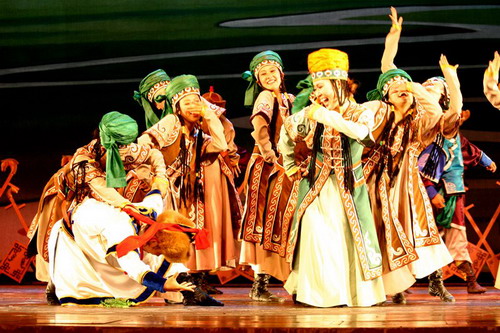 On January 24, the Chinese dance drama "Erdos Wedding" was staged at the John F. Kennedy Performing Arts Center in the US.
More than 40 young Mongolian dancers from Erdos, Inner Mongolia, China for the first time ever brought the stage drama to more than 1,000 spectators.
This is the fifth consecutive year for "The Charm of China" project to be hosted by the China Arts and Entertainment Group, which visited the United States on the eve of the Lunar New Year for the performance exchange. Through folk songs and dance, this year's dance drama "Erdos Wedding" revealed Mongolian worship culture, along with its royal, food and clothing culture and ritual practices of Erdos, all in front of foreign audiences.
"Erdos Wedding" was added to the national intangible cultural heritage list in 2006. Since its debut in August 2006 it has won various prizes.
Head of the Erdos Opera and Dance Drama Ensemble Siqing Bala said, "This large ethnic dance has been performed for 10 years and this is the first time for it to go out of China." Reportedly, the show's attendance last year at the Kennedy Center for Performing Arts over the course of two days was above 80% on March 24 and over 90% on March 25.
The audience included a group of teachers and students from the most prestigious professional ballet school in the eastern United States, The Kirov Academy of Ballet of Washington, D.C. When they heard the "Erdos Wedding" was coming to the Kennedy Center they contacted the ensemble to invite the Mongolian dancers to their school for cultural exchange.
The show's organizers said, "The Charm of China also toured Maryland at Maryland Hall for the Creative Arts, Salisbury University, Chesapeake Arts Center for further cultural exchanges."
Background information:
The "Wedding of Erdos," originated in ancient Mongolia during the 15th century, and remains very popular in Mongolia. Nowadays, the ceremony has evolved into a cultural phenomenon.
The wedding performance features a series of specific ceremonial procedures, such as presenting the Hada for engagement, greeting the son-in-law, offering sheep and toasting, asking a person's name and age, receiving the mother's blessings and so on, which have been preserved well and all gradually become customs.
The procedures and traditions depicted in "Wedding" all come from a variety of different areas within Mongolia. The singing and dancing in the drama make the wedding celebration more joyful and harmonious. The Mongolian wedding not only embodies the peoples' goodheartedness and ceremonious characteristics, but also reveals various ethnic cultures to the outside world, such as traditional ceremonial customs, folk singing and dancing.