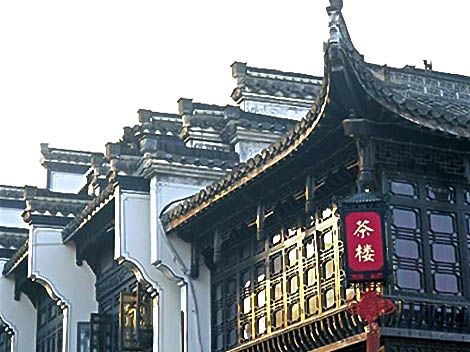 Tea house (Chaguan), a special place for the Chinese to have tea, is very popular in the Yangtze River area; it is mostly called tea house (Chalou) in provinces like Guangdong, Guangxi and Hainan, and is called tea pavilion (Chating) in Beijing and Tianjin of north China. Historically, there are some other names for it, such as Chaliao, Chafang, Chasi, Chashe, Chayuan, Chawu and Chashi. Although these names vary, the forms and contents are basically the same.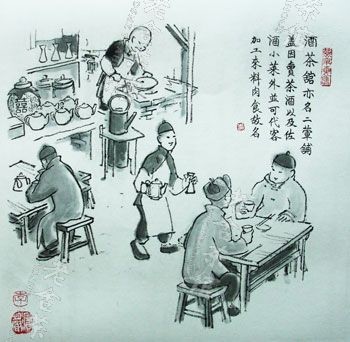 The tea booth (Chatan) and small tea house (Chaliao) existed long before in China. During the Song Dynasty, Chasi and Chafang, where tea was sold, were already ubiquitous. The tea shop industry was further developed in the Ming Dynasty. At the same time, the business of selling big bowls of tea began prosperous in Beijing and was included as a formal industry into 360 industries. During the Qing Dynasty, since the Manchu aristocracy often spent their time in tea houses, they become important activity places for people from all walks of life, such as high officials, merchants and underlings, there.
To the Chinese people, tea house, similar to the cafes in western countries, are social places where various kinds of social information are gathered and spread and where customers taste tea and talk about birds, news and daily things. In order to attract customers, stages are built in some tea houses to play tom-tom, Storytelling (Pingshu) and Beijing opera, making these tea houses amusement places. The drama Tea House, written by famous Chinese writer Lao She, revealed vividly the unstable society of the last phase of the Qing Dynasty through describing various kinds of people's words and behaviors in a tea house.
The rise of Tea House is closed related with Chinese tea culture. After several thousand years of development, the Tea House has become a part of life for the Chinese people. Now, people who come to Beijing will be attracted to those famous tea houses to experience Chinese tea culture.