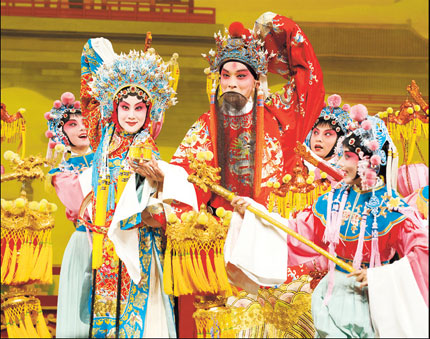 A scene from Kunqu Opera "The Palace of Eternal Youth."(Shanghai Daily)
Kunqu Opera is often called the mother of Chinese operas and the 600-year-old art form ranks as a UNESCO Masterpiece of Oral and Intangible Heritage.
To celebrate its UNESCO listing 12 years ago, the Shanghai Kunqu Opera Troupe will present a concert of classic excerpts tonight and a performance of the classic "the Palace of Eternal Youth" on Sunday.
The concert will feature hauntingly beautiful melodies. Scores of classic Kunqu Operas will be performed with traditional instruments such as dizi (the bamboo flute), sanxian (a three-stringed plucked instrument) and pipa (Chinese lute).
"Without singing and other performances, it will be a rare chance for the audience to feel and get close to the tranquil musical charm of the opera," says Shi Jian, director of the troupe.
Kunqu Opera has strongly influenced other Chinese theater forms in their expression and performance.
On Sunday evening, a condensed version of the classic "The Palace of Eternal Youth" will be presented. Eight major chapters will portray the tragic love story of Tang Dynasty (618-907 AD) Emperor Li Longji who was besotted by his concubine Yang Yuhuan and abandoned his duties for her. Yang was forced to commit suicide because she was thought to be cause of a rebellion.
Kunqu Opera concert
Date: Today, 7:15pm
'The Palace of Eternal Youth'
Date: May 19, 7:15pm
Venue: Yifu Theater
Address: 701 Fuzhou Rd
Tickets: 30-280 yuan
Tel: 6217-2426, 6322-5294
(Shanghai Daily)