Students enjoy the exhibition of prints from the Heilongjiang Art Museum's collection in the National Art Museum of China. Jiang Dong / China Daily
Swarms of demobilized soldiers pioneered a massive exploration of Beidahuang, or the "Great Wilderness", of Heilongjiang province in the late 1950s.
They not only cultivated the wasteland but also created prints with such basic implements as knives and woodblocks.
Their creations formed a distinctive school of engraving that was later named after the vast plain upon which they toiled for decades.
The Beidahuang print school extensively influenced artistic development in other parts of Heilongjiang and still nurtures local artists.
A display of 195 of these prints from the Heilongjiang Art Museum's collection occupies the National Art Museum of China (NAMOC)'s central exhibition halls. It presents a panorama of Heilongjiang's artistic landscape over more than five decades.
The exhibition pays homage to the genre's first-generation artists, including Chao Mei, Zhang Zuoliang and Hao Boyi, who established the Beidahuang school's aesthetics. They departed from the previously dominant black-and-white style to produce colored, mimeographed pieces.
Their works usually portrayed natural landscapes and farming, and the spirit of laborers.
"Heilongjiang neighbors Russia, and it was a time when China was trying to learn everything from the former Soviet Union," Heilongjiang Provincial Printmaking Institute's director Yu Chengyou says. "Thus, the engraving shows profound influences from Realism and Russian oil painting."
Classic works from this period include The North in September, which Chao Mei created in 1963.
The artist exaggerated the size of the red sorghum, making the plants appear much higher than the people harvesting them.
Hao Boyi's Disturbance shows roe deer jumping in fear in front of a tractor's lights against the brushwood backdrop.
"Woodprints from the school's early stages feature bold carved lines, full compositions and rich colors," Yu says.
The arrival of zhiqing - educated youth sent to labor in the countryside during the "cultural revolution" (1966-76) - broadened the motifs. This period's works still feature such commonplace subjects as farmlands, tractors and oil deposits but also show new concern about humanity.
One representative piece on display is Morning Dressing by Zhang Chaoyang.
The work shows a girl standing in front of a tent used as a temporary residence for zhiqing, using a tractor's window as a mirror to braid her hair. While her back is facing viewers, her face can be seen in the reflection.
The print deviates from the widely adopted approach of expressing heroism and enthusiasm. It instead shows an appreciation of a woman's beauty and conveys a sense of tranquility.
"We can see Beidahuang prints have absorbed a growing number of elements over the past three decades," Heilongjiang Art Museum director Zhang Yujie says.
"The rising artists include the children of those pioneers, who were born and raised in Beidahuang. Their works demonstrate a sweet attachment to their homeland and their idyllic lives."
The school made a breakthrough the 1980s, when it incorporated watermark printing.
Beidahuang prints' growing popularity during this period inspired artists in nearby cities to also start creating them.
Zhang says Heilongjiang now has 10 groups and more than 200 artists dedicated to prints.
Primary schools in some communities teach printmaking in fine arts classes.
The exhibition also presents contemporary prints by artists with academic backgrounds, who have enriched Beidahuang's art.
"Their works convey their thoughts about culture and the environment," Zhang says. "They invite viewers to discuss social issues."
NAMOC's director Fan Di'an says the exhibition narrates prints' rise as an important cultural phenomenon in Heilongjiang and a vehicle of modern Chinese culture.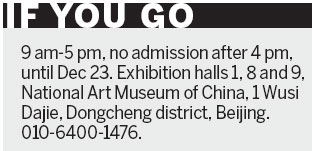 "People can see in those prints that the Great Wilderness (now a national grain-production base) has become the 'great beauty'," he says.
The exhibition also celebrates the 50th anniversary of the provincial Heilongjiang Art Museum's founding. The displays constitute only a small slice of its collection.
Zhang says about two-thirds of the museum's 6,000 pieces are prints, and about half of its annual events are related to prints.
linqi@chinadaily.com.cn
By Lin Qi (China Daily)