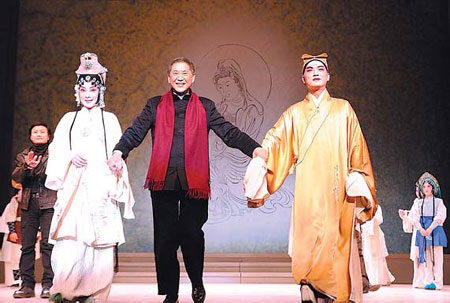 Kenneth Hsien-yung Pai (center) thanks the audience with two leading actors of The Jade Hairpin.
Chinese-American writer Kenneth Hsien-yung Pai is better known for his work promoting Kunqu Opera than for his writing these days.
It is not surprising because he has devoted most of his time to Kunqu Opera since he began to work with the Suzhou Kunqu Opera Theater to produce the "youth version" of Peony Pavilion in 2003.
The production has staged more than 200 performances in the Chinese mainland, Taiwan, Hong Kong, Macao, the United States, the United Kingdom and Greece. With a new cast, set, costumes and lighting design, the production has become so popular that Pai's name has become synonymous with Peony Pavilion.
Pai says now he wants to spend more time on literature.
In May, Guangxi Normal University Press published Pai's biography of his father, The Figure of General Bai Chongxi. His father was a famous Kuomintang general.
"I will get back more to writing. I'm glad that I have started a new craze for the old art of Kunqu Opera, but I'm a little worn out," the 75-year-old Pai says. "I hope more people will engage in the work of promoting Kunqu Opera."
Pai finds most satisfaction when young Chinese, especially college students, are drawn to the traditional music genre.
About half of the performances of the youth version of Peony Pavilion were held in universities, mostly the top universities in China. Pai is especially impressed by the performances at the University of Science and Technology of China, where students majoring in science packed even the aisles of the hall to appreciate Kunqu Opera.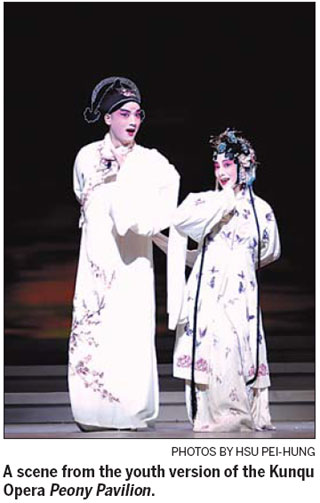 "We went to many places where Kunqu Opera has never been performed. The popularity of Peony Pavilion has proven that Kunqu Opera remains charming in the 21st century," he says.
Pai says everybody should see a Kunqu Opera performance at least once. His enthusiasm has much to do with a performance by Kunqu and Peking Opera maestro Mei Lanfang in Shanghai in 1946, when he was 9.
"We have lost many other forms of musical heritage in China. Fortunately, we can still hear the 600-year-old Kunqu Opera today, and it's our responsibility to preserve and spread it," he adds.
In October, Pai received the Taichi Traditional Music Award, a brainchild of the China Conservatory to honor individuals or social groups all over the world, who have made outstanding and original contributions toward performance, inheritance, theoretical studies or dissemination of traditional music.
At the Taichi Traditional Music Award ceremony, the presenters read this citation of Pai: "Kenneth Hsien-yung Pai and the team who did the youth version of Peony Pavilion have made outstanding contributions in promoting and disseminating Kunqu Opera to the world. The production's meaningful exploration in combining classical traditions and modern art forms helps Kunqu Opera achieve wide influence in the world."
Pai received the award together with Indian sitar master Ravi Shankar, US ethnomusicologist Bruno Nettl and Lin Zhongshu, a farmer from Hebei province who helped to revive the local village concert tradition.
"Kunqu Opera is a representative form of the elegant culture of ancient China," says Fu Jin, director of the Academic Committee of the National Academy of Chinese Theater Arts.
"We should thank Pai for bringing Kunqu Opera back to contemporary life and for showing its vitality to the world."
After Peony Pavilion, Pai produced another Kunqu Opera, The Jade Hairpin, which again demonstrates his concept of modernized Kunqu Opera. As one of the earliest romantic plays that deals with sexuality, it tells a passionate love story between young scholar Pan Bizheng and a Taoist priestess.
Pai says China's music education in schools is Western-centric and suggests traditional Chinese music genres like Kunqu Opera be added to the syllabi.
"Without traditional music, such as Kunqu Opera, China will be an aphonic nation," Pai says.
muqian@chinadaily.com.cn
By Mu Qian (China Daily)