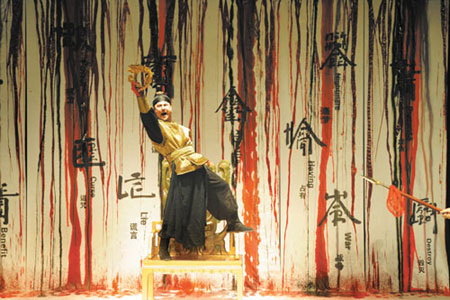 A Chinese production of Richard III will be staged on Nov 2-4. Director Wang Xiaoying has combined his understanding of the Shakespearean classic with China's unique theatrical expression.
Wang, from the National Theater of China, participated in the Globe Festival in London last April, when artists from 37 countries presented Shakespeare plays in their respective languages.
Wang's version has adopted an ancient Chinese setting and costume design. The percussion music, performance styles and choreography are from traditional Chinese opera.
Its actors Zhang Dongyu and Zhang Xin have won much acclaim in London.
Richard III is one of the longest Shakespeare plays. The story focuses on the protagonist's power lust, which leads him to try to usurp the throne.
7:30 pm, Nov 2-4. Yihai Theater, 466 Jiangning Road, Shanghai. 021-6256-8282.
By Zhang Kun ( China Daily)