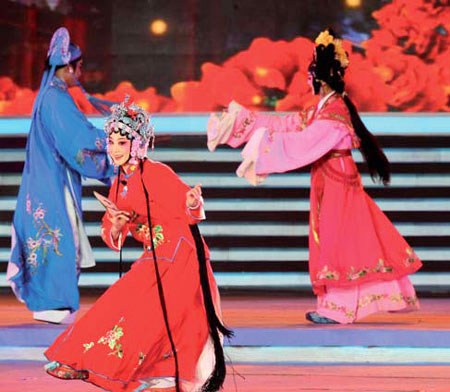 The Gaojia Dance performed at a celebration of the forum is a folk art commonly loved by people across the Straits.
Xiamen locals got a chance to experience authentic snacks, handicrafts, cultural shows and art performances from Taiwan at a street fair that opened on June 15 Zhongshan Road, one of Xiamen's most renowned business zones.
Part of the fourth Straits Forum, the week long Taiwan-themed fair has attracted more than 100 vendors selling about 300 kinds of traditional snacks from Taiwan, said Guo Guirong, vice-mayor of Xiamen, southeastern Fujian province.
There are another 110 booths showing Taiwan's traditional handicrafts and creative products, Guo said.
"We have been benefited from cross-Straits exchanges," said Li Wo-shih, magistrate of Taiwan's Kinmen county, at the opening ceremony of the fair.
Decades ago, Kinmen was a military stronghold against the mainland, but today it serves more as an island of cross-Straits cultural exchanges, and we are making efforts to preserve southern Fujian culture," he said.
The street fair has made already bustling Zhongshan Road even more crowded, with every booth surrounded by interested visitors. Many vendors have figured out creative methods to make theirs stand out among a sea of booths.
One young man, selling a flavored ice dessert, stood high on the table, holding a cup of the dessert in his right hand like the iconic Statue of Liberty.
A gong was hung at a booth selling the dorayaki cakes, a confection originating in Japan. The vendor said the cake looks like a gong, and its name means "gong" in Chinese.
Lai Yin-kai, 75, is probably one of the oldest vendors at the fair. Lai said he came to the mainland from Keelung more than 20 years ago. "The business is quite good here," he said while handing the peanut roll candies he sells to waiting customers.
A tourist from Shenzhen surnamed Zhao happened to pass the street fair while walking with his girlfriend.
"We found the road was so bustling, and we couldn't resist joining the excitement," Zhao said. "We have tasted so-called Taiwan-style food many times, but none of it has been as authentic as it here."
The city of Tainan in southern Taiwan is one of the most active participants in this year's street fair. The city's government has organized around 60 snack booths, all using Tainan-produced food materials.
In addition to cuisine, the city also sent a Baihe Zhen performing group.
The Baihe Zhen style originated in southern Fujian's coastal regions more than 300 years ago as a branch of martial arts, but now it is regarded more as a performance tradition combining Kung Fu, dance and religious ceremony that has been passed from generation to generation in Tainan.
Of the 50 Baihe Zhen performers coming to Xiamen, the oldest is 90, while the youngest is only 11. They wear white, with one dressed like a crane, and the others have all kinds of weapons, such as swords and shields. "Baihe Zhen is one of the most valuable treasures in southern Fujian and Taiwan culture," said Hsieh Ming-hui, head of the performing group.
"Protecting cultural heritage through joint efforts across the Straits can be very important for promoting cultural and creative industries, and even the reunification between the two sides," Hsieh said.
Zhangzhao@chinadaily.com.cn
By Zhang Zhao ( China Daily)