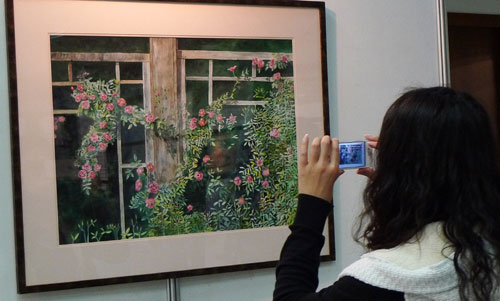 A female spectator takes a picture on Sunday, April 22, 2012, of a piece of artwork by Fanny Wong called "Roses outside the Window", the winning entry of the 2007 8th National Watercolor and Pastel Painting Exhibition". [Photo: CRIENGLISH.com/Xu Fei]
An exhibition of watercolor paintings by Hong Kong artist Fanny Wong is currently being held at Peking University. The theme of the event is The Charm of Cantonese Opera.
Running until April 26, the exhibition comprises two parts: the paintings of leading female roles in Cantonese Opera and the paintings of various types of colorful flowers, including roses and tulips.
Fanny Wong says that having her work exhibited at Peking University is not only an honor for herself, it is also a great honor for the entire people of Hong Kong.
Fanny Wong began watercolor painting 15 years ago. She is now a guest teacher at the Hong Kong University of Science and Technology.
Source: CRI