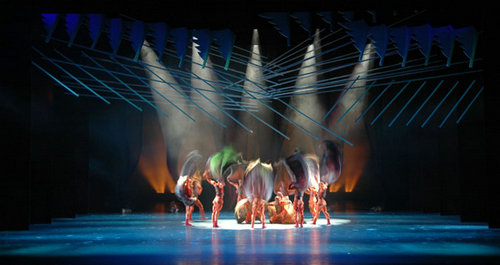 Heming Lake was performed on the evening of April, 14 in Beijing. [Photo/chinadaily.com.cn]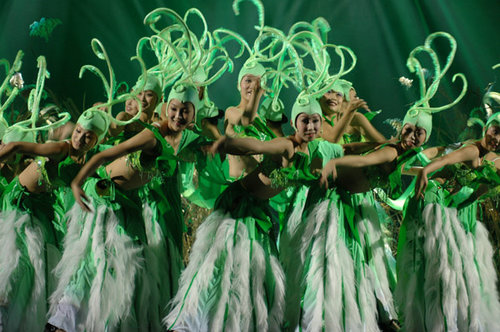 Heming Lake was performed on the evening of April, 14 in Beijing. [Photo/chinadaily.com.cn]
The 2012 Glorious Daqing Art Week was held in Beijing recently, with Heming Lake, a full-scale musical, as its highlight.
The main performance of the art week, Heming Lake was performed on the evening of April, 14.
It was the key cultural project of Hei Longjiang Province, which regards modern subjective expressionism as the pursuit of aesthetics through a combination of realism and idealism. With its creative concept exploring freehand, aestheticism and romance, this musical accentuates the group's consciousness in defending the motherland, a human-oriented consciousness of cherishing lives, an ecological consciousness of sustainable development, and civilized consciousness of harmony and progress. Heming Lake, by juxtaposing civilization and ignorance, good and evil, stresses the eternal subject that people and nature should coexist in a harmonious way.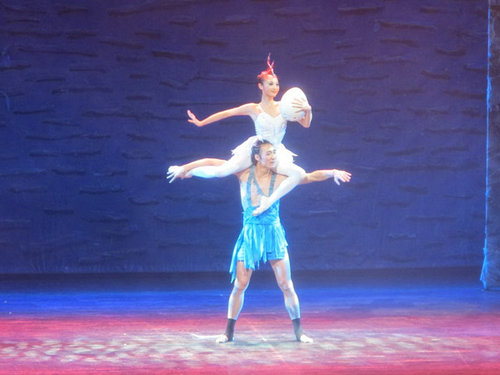 Heming Lake was performed on the evening of April, 14 in Beijing. [Photo/chinadaily.com.cn]