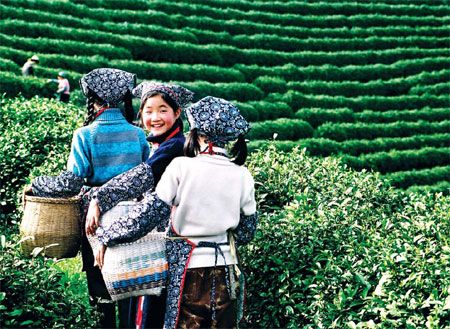 'The Venice of the Orient', as Hangzhou is sometimes called, has plenty of water resources and favorable weather for growing tea trees.(Source:China Daily)
Tea sellers are preparing to release their pre-Qingming tea varieties, the best tea collected in early April, in anticipation of the upcoming 2012 China Hangzhou West Lake International Tea Culture Expo, which is set to once again bring out the best of tea culture in Hangzhou, Zhejiang province, said local officials.
Tea and its related customs have been involved in shaping and developing the city's key features for 1,500 years. Among its celebrated types of tea, Longjing, the Dragon Well Tea, is the most renowned and pricey.
Once the tea is soaked in fresh-boiled water, a sweet woodsy aroma rises out. Its leaves bloom like flower buds and bounce slightly up and down, which makes the brewing process itself a sight to behold.
Longjing tea is an inseparable part of the city's cultural legacy, say local leaders. One of the most famous pieces of folklore related to Longjing tea is a tale about when Emperor Qianlong, who reigned from 1711 to 1799, visited Hangzhou.
According to folk legend, the emperor randomly arrived at a tea garden underneath the Lion-shaped Mountain in the Hangzhou suburbs. Amused by the girls who were busy gathering tea leaves there, he begun to pick some himself. Just after scooping up a handful of leaves, a messenger arrived with news that his mother had fallen ill.
Without thought, Qianlong stuffed the tea into his pocket and rushed back to Beijing to see his mother. The mother could smell the leaves in her son's pockets, which refreshed her. As the legend goes, she brewed the dried leaves and got better after drinking them.
The emperor was pleased, so he named the tea trees he saw there the "Royal Trees" and had the tea farmers send him fresh tea every year thereafter.
It was at that time that Longjing tea became a household name.