"Hairspray", winner of eight Tony Awards 
Summer is the season for musicals. Last year it was "Mamma Mia!" set in a Greek town - this time "Hairspray" from Broadway takes us to a 1960s American city.
"Hairspray," winner of eight Tony Awards including Best Musical in 2003, will be on the stage of Beijing Exhibition Center Theater from July 25 to 30. Before coming to Beijing, it will premiere at Shanghai Grand Theater on July 5, and will be released for 20 times till July 20 to meet the needs of audiences. This is the first time after "Mamma Mia!" that China stages new musical simultaneous with New York and London.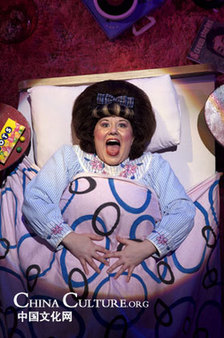 Brooklynn Pulver stars as fat girl Tracy Turnblad.
The show by Networks Presentation is based on the New Line Cinema film written and directed by John Waters, who served as a creative consultant on the musical comedy. It features a book by Mark O'Donnell and Thomas Meehan.
Audiences will be swept back to 1960s Baltimore in this toe-tapping musical, piled bouffant-high with laughter and romance - and enough deliriously tuneful songs to fill a nonstop platter party.
It's 1962 in Baltimore, Maryland. The 1950s are out and change is in the air. Tracy Turnblad, a big girl with big hair and an even bigger heart, has only one passion - to dance. She wins a spot on the local TV dance program, "The Corny Collins Show" and overnight is transformed from outsider to irrepressible teen celebrity.
But can a plus-size trendsetter in dance and fashion vanquish the program's reigning princess, win the heart of heartthrob Link Larkin, and break in to the television show without denting her do?
The original score was written by Academy Award-nominated Marc Shaiman who also wrote the lyrics with Scott Wittman. The production is based on Jack O'Brien's original direction and Jerry Mitchell's original choreography, recreated by Matt Lenz and Danny James Austin.