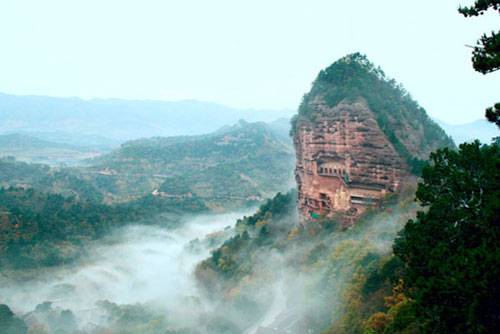 The 1,500-meter high Maiji Mountain is home to an abundance of relics dating back 1,600 years ago when Buddhism was first introduced into China. (China Daily/Tianshui Tourism Bureau)
The caves, Buddhist sculptures and murals on Maiji Mountain in Gansu province have survived many natural disasters throughout the centuries. Li Yang feels spiritually recharged after a visit.
Before the trip to Maiji Mountain, I was only expecting to see a wheat-stack-shaped mountain, as its Chinese name indicates.
I drove all the way to the middle of the mountain without realizing that the clumsy and dull red sand rock koppie standing in front of me was it, until I saw the stone tablet carrying its name.
Maiji nestles at the base of high rocks. Although it is less than 100 meters high from bottom to top, its elevation is 1,500 meters.
Facing a large valley to its south cliff, Maiji appears to be the commander of all surrounding mountains.
Maiji stands tall as an isolated peak. It is a red sand rock cylinder peak, rare in the region, contrasting sharply with the others.
Nature has put it in the focus of the valley.
When my eyes turned around a protruding rock, I caught sight of a large pair of feet, 3 meters wide at least, carved out of the mountain stone in a big cave.
I had no idea that I was already standing at the feet of three great Buddha statues of a five-story building's height - one Amitabha statue flanked by two bodhisattvas.
All of them wear robes and a smile, with eyes half-opened.
They were carved in the Northern Wei Dynasty (AD 386-534) and mended in Song (960-1279), Ming (1368-1644) and Qing (1644-1911) dynasties.
The tour guide told me the latest repair in 1984 found a white china bowl made in the Song Dynasty and a well-preserved booklet of Buddhist scripture in the left cheek of the Amitadha statue.
The story adds to the mysteries of the Buddha statues, making my trip more like an exploration for treasures.
The bright sunshine casts shadow on the large statue's face, and the moving shadow gives the still face different expressions.