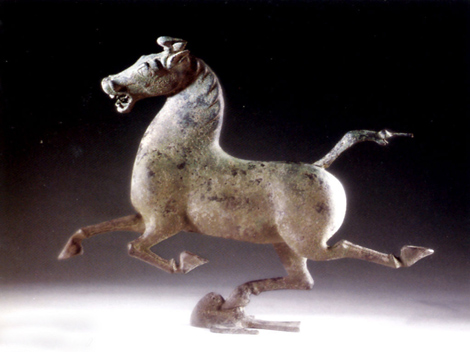 Among China's various craft masterpieces, Bronze Galloping Horse Treading on a Flying Swallow 马踏飞燕 is unique with its splendid designs and is a classical work of Chinese ancient aesthetics.
Bronze Galloping Horse Treading on a Flying Swallow was unearthed in 1969 in the Leitai Tomb of the Eastern Han Dynasty (25-220) in Wuwei County, Gansu Province. The bronze statue is a famous representative sculpture of the Han Dynasty. Wuwei County leapt to fame with the discovery of this national treasure.
It is 34.5 cm high and 41 cm long. The roaring horse is finely shaped in a galloping posture with one hoof treading on the back of a swallow. The posture is unique and carefully balanced according to dynamics. The bronze statue, created about 2,000 years ago, has a lively action and accurate proportions. The positioning of its four legs strictly conforms to that of a living horse and is highly praised by many local and foreign archeologists and artists. The horse is raising its head, neighing and galloping forward with one foot treading on a flying swallow.
In this work, Chinese ancient artisans combined realism and romanticism, and ingeniously integrated galloping horse and flying swallow through rich imagination, original conception and skillful craftsmanship. The swift flying swallow sets off the amazingly fast speed of the galloping horse. According to analysis of its mechanics, Bronze Galloping Horse Treading on a Flying Swallow finds a center of gravity in the swallow to give the statue its stability. The romantic image of the swallow sets off the power and strength of the horse, providing a rich imaginative experience for viewers.
Bronze Galloping Horse Treading on a Flying Swallow is believed to be a portrayal of the "heavenly steed" of Chinese legend. It is of high craftsmanship, fully expressive of the horse-breeding culture of China's western regions. It has become a symbol of Chinese tourism and a representative work that brings forth the time-honored cultural tradition of the Chinese nation and the oriental aesthetics to the world. The cultural relic is now preserved in the Gansu Provincial Museum.