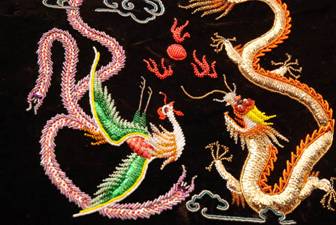 Phoenix and dragon images on Xiamen bead embroidery
Xiamen bead embroidery, which uses the technique of adding beads to fabric using traditional embroidery stitches, is one of the most famous craftworks in China. It is well-known for its creativity, uniqueness, and dazzling designs.
Bead embroidery can be made with chain stitch, backstitch, cross stitch or any other stitch desired—they are all fundamental embroidery techniques that originated in ancient China.
Xiamen bead embroidery emphasizes the contrasts of light and shade that highlight the pattern design to give a three-dimensional effect.
The beads can be used as embellishments on an array of items from garments to shoes to decorations. Xiamen bead embroidery has a history of more than 100 years. With its development, Xiamen bead embroidery has today become highly complex and exquisite. By the dexterous hands of the local people, small beads are linked together with silk thread, forming all kinds of spectacular patterns from folklores in China. Dragons, phoenix, peacock, peonies are all the common images that will appear on the embroidery.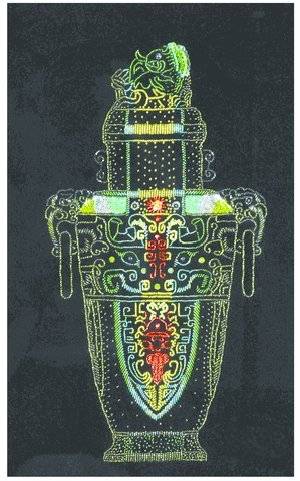 This embroidery design has won national awards in China.