Perhaps many elderly Chinese people still have fresh memories of the colorful calendar pictures issued in early modern times, when the feudal China began to be influenced by the western surge. Having beauties' pictures and the calendar printed on it, the sixteen mo art paper is in fact a form of advertising, because there is usually an advertised commodity in the picture. However, the meaning of the colorful papers has gone far beyond a printed advertising or decoration. It reflects the transition of history, and thus records the sand of time.
According to historical documents, calendar pictures originated in the Dao Guang period (1782-1850), during the Qing Dynasty. It was then that foreign companies and their goods swarmed into the commercial ports of China, most typically in Shanghai. Originally, the foreign companies gave out colorful leaflets of pure western style, but the Chinese customers wouldn't buy the exotic brushwork and models. So the companies did in Rome as the Romans did, and hired Chinese painters, adopting the format of lunar New Year paintings. As a result, the pictures were widely enjoyed. The earliest calendar pictures painted by Chinese painters, as the story goes, were handed out together with lotteries. The oldest calendar picture in existence (issued in 1883) is now preserved in the Shanghai Library. Its picture tells a total of 24 stories on filial piety, and is accompanied by a combination of solar and lunar calendars.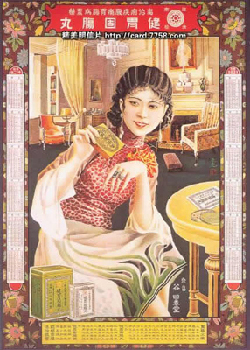 The printing of calendar pictures was technologically supported by lithography, which enabled the mass production of exquisite pictures. Since the calendar paintings had a large circulation, printing companies all counted this business as an important revenue resource. The Zhonghua Book Company, for example, printed 200 thousand calendar pictures only for the government in 1916.