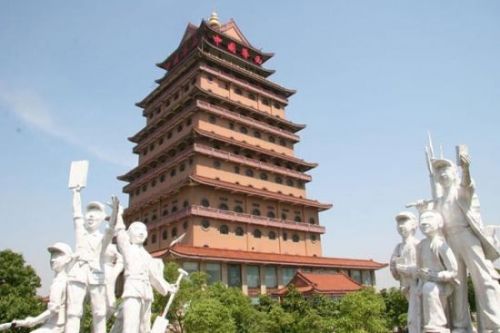 1. Huaxi village 华西村
Huaxi village is also known as the No.1 Village of China. It is located in Jiangyin city, a county-level city directly administered by Wuxi municipal government in Jiangsu province.
Currently, all the villagers live in their own high-ranked villas, which roughly cover 400 or 600 square meters. And each family at least has asset from 1 to 10 million yuan, and one to three cars.
The 74-storey Longxi International Hotel, a new landmark skyscraper in Huaxi village, is 328 meters high, as high as the tallest building in Beijing.
The villagers also built pagoda groups, tunnels, Longxi lake, world garden, farmer garden and other facilities. There are totally more than 80 attractions in the village. Since 1978, travelers from more than 120 countries have visited this village; each year the village receives more than 1 million travelers.