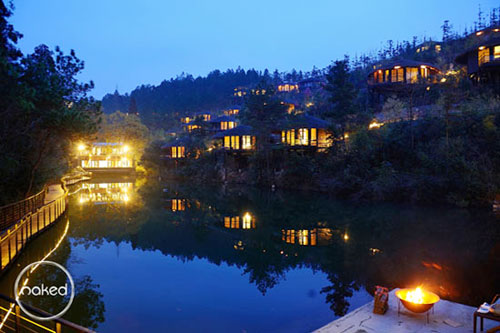 Naked Stable Private Reserve is nestled in the secluded green Mogan Mountain in Zhejiang province. (China Daily)
Brave, pioneering, and a dreamer - that is how 37-year-old South African resort developer Grant Horsfield describes himself.
"My wife and I put everything we had into this project. Many people say I am crazy to invest my life into China and a project in the middle of nowhere," says Horsfield as he sips beer in a cafe bar inside his resort, Naked Stables Private Reserve, nestled in the beautiful green Mogan Mountain in Zhejiang province.
Bathing in the glow of sunset, he looks more like an adventurer than a businessman.
The resort spreads across more than 24 hectares of private, secluded valley, and is surrounded by verdant bamboo forests, tea plantations and farming villages.
Located 2.5 hours from Shanghai by car, one hour from Hangzhou, it has become a popular escape from the hustle and bustle of city life.
In 2007, he spent $1 million to lease eight original farmhouses in a village in Mogan Mountain, and refurbished it into a holiday complex, named Naked Retreat, with a capacity of 30 guests. Business was brisk with average charges ranging from 500 yuan ($81) to 1,000 yuan per person.
In 2011, Horsfield opened the second resort, the Naked Stable Private Reserve on the mountain, with 121 rooms.
Larger and equipped with more recreational facilities including swimming pools, a spa, a theater, and tea fields, this resort targets urbanites with good income and those looking for a high-end holiday experience. Revenue has already surpassed 90 million yuan in 2012.
"My father died when I was 12, with no money. He left the family when I was 5. My mother had to raise five children by herself, with no money. I do not think people with fortunes will work as hard as I do," he says.
When he was doing his MBA degree at the University of Cape Town, Horsfield heard a story of how a Belgian businessmen made a fortune by exporting chicken feet, something that are normally thrown away in his country, to Beijing. Since then, he has been thinking of bringing something unique from Africa to China.
"I looked for many products but didn't find a proper one. And then I thought it might be better to export an idea, rather than a product," he says.