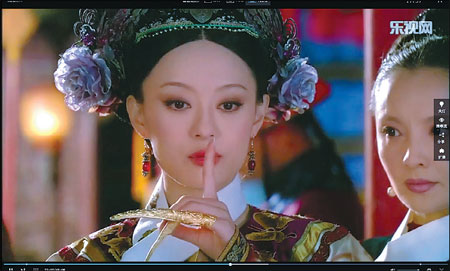 A screen grab from the popular Chinese TV drama Empresses in the Palace. There are plans for it to be re-edited and broadcast in the United States.
Wysteria Lane, the fictional setting of the US TV series Desperate Housewives, may have some competition from some more ancient surroundings - or at least that's the plan.
Recent stirrings in the Chinese TV scene have pointed that the Chinese TV drama The Legend of Zhenhuan, or Empresses in the Palace, may be headed West. But rumors of such a move are right now only that.
The Chinese TV drama, with its critical and meticulous display of the intrigue between emperor's concubines in the imperial palace of the Qing Dynasty (1644-1911), was arguably China's best-received and most influential TV drama last year.
It gained a record-breaking 10 percent rating at its peak and some 2 billion click-throughs online. After attracting a large audience on the mainland, the drama has unexpectedly become a popular sensation in Taiwan as well.
Unusual for any mainland TV production in the past decade, reactions have included an audience rating that tops many star entertainment shows, many talk shows that sing its praises, and continuous social discussions.
For Cao Ping, the TV drama's producer, these are all surprises. She said she could finally hold her head high after news that the show has scored high ratings in Malaysia and Singapore, and that it has been sold to Japan.
A US production company noticed that it captivated Chinese audiences in the US, Cao said. But she declined to reveal the name of the company.
Confident in both the show's cultural value and its movie-like production level, the company purchased the right for broadcasting in all English-speaking regions, Cao said.
Cao said the company will re-edit the 76-episode series into a six-part mini-series with one-hour episodes. Due to the possible edits, there may be some loss in the fluidity of the plot, so Cao said the company is considering investing in reshooting various scenes with the original cast.
Apart from reshooting, Cao also said that the company will rescore the series, and the dialogue may be dubbed into English.
But Zheng Xiaolong, who directed the series, later said they've agreed that subtitles may be a better choice. Although English subtitles are in the DVD version, the US production team is still in the drafting phase of a better translation as well as a detailed editing plan. Both will then be submitted to Zheng for final approval.
Though both Zheng and Cao believe it's going to be the first serious instance of a Chinese TV drama exported to the US. Unlike any previously exported Chinese TV dramas that have ended up in Chinese channels, The Legend of Zhenhuan is believed to have a chance to be broadcast via mainstream TV stations.
Rumor has it that the show will be broadcast on HBO. However, the cable movie network has said that it is not currently involved with such projects.
Zheng confirmed that the show is not yet decided on a TV network. However, TV critics in the US are skeptical that the show will ever air on a major US TV network, particularly during prime time, its regular programming hours.
James Poniewozik, TV critic for Time magazine, said adaptations of foreign-language series such as Intriguement on HBO and Homeland on Showtime, both adaptations of Israeli series, have become more common in the US. But he doesn't see US TV taking foreign productions and running the original in subtitled form in prime time or during prominent programming.
"There is just a general feeling that has some substantiation in the commercial film market that the US audience is just not that receptive to reading subtitles," he said. "I don't know what would get lost in cultural translations. I think that inevitably, if you're adapting something from one culture and setting in another culture, you're going to lose some subtleties and cultural references."
Using Hamlet as an example, Poniewozik said that productions of William Shakespeare's classic play can be made in a Chinese dynasty rather than the original setting of Denmark, and still express similar themes. But despite the similarities, some elements would get lost in translation.
"Cultural translation is one factor, but the language is a bigger factor," he said.