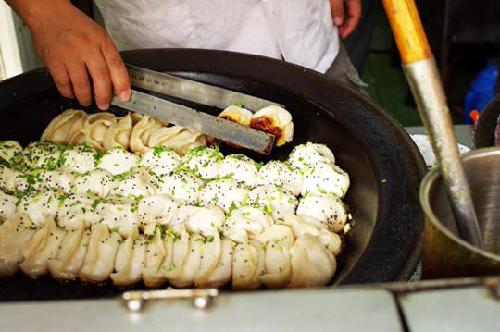 Another food store offers pan-fried bun stuffed with pork.
If there's a 90-year-old Chinese man eating breakfast where you've just been taken for a food tour, it's fair to assume you've hit the jackpot.
He tells us "this place is good" as he smiles with much more energy than I do, but then again my stomach is still empty. That's about to change thanks to his vote of satisfaction and the delights placed before me at a street vendor's spot in Shanghai's former French Concession.
"Everyone in here is just super friendly, super nice and they're always curious because they don't see many foreigners in these small places," says Jamie Barys, my tour guide, who founded UnTour just over two years ago with colleague Kyle Long, both from the United States.
We tried almost everything available at our first stop. A puffy egg crepe or danbing was first - and although oily, it was delicious and surprisingly fluffy.
My favorite at this corner, though, were the so-called "pot-stickers", Shanghainese fried dumplings or guotie. Tour guide Barys had to teach me how to devour them, by first warning me to poke a hole in the side in case the liquid is boiling inside.
"When you eat, you can hear everyone around us is making slurping noises, and they do that to bring the cool air in with the hot liquid so it doesn't scald their tongue. If you slurp loudly, it's easier to eat," she says.
The steaming sauce trapped inside explodes into your mouth with a hit of spice and meat, balanced perfectly with a touch of Shanghainese vinegar on your spoon.
Our inquisitive 90-year-old friend, who tells me in English through laughter that he's an "old Chinese man", prefers the congee for breakfast. Barys dared suggest it's easier for the older folk to eat, and we'd be giving it a miss this time.
As a foreigner new to Shanghai, I'm always unsure what is safe to eat and what isn't. Barys says always look for queues of people - if the Chinese don't go there, you shouldn't either. Also check for a stash of oil in bottles to make sure it's fresh and not illegally recycled.
As we head to our next stop, Barys shares the history of the street stalls and the buildings around us, along with a mingle among the calligraphy artists and morning dancers.
This tour is not just about food, but also about the culture and history of Shanghai.
Passion for food is in Barys' blood - her mother works in a bakery. But her love of Chinese food comes from when she started studying in Beijing. Like it is for many Westerners, the experience wasn't love at first sight.