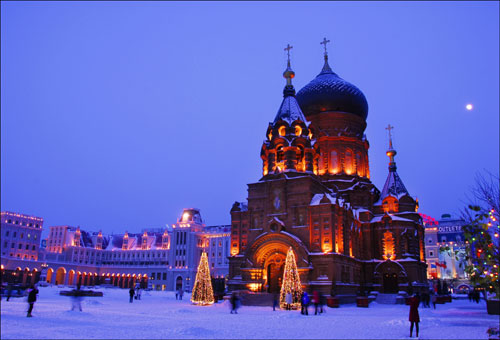 Harbin, the largest city in China's northernmost eastern reaches, was the cradle of the Jin (1115-1234) and Qing (1644-1911) dynasties. After 1896, with the building of the Chinese Eastern Railway, Harbin began taking shape as a modern city.
In the late 1930s there were 500,000 immigrants from Russia and 500,000 Chinese people living in the city. During its evolution into an international commercial hub in the first half of the 20th century, Harbin accommodated more than 160,000 expatriates from 33 countries, and many international corporations and banks clustered here. Twenty countries established their consulates in the city.
Harbin's unique history has shaped its distinctive culture and atmosphere, and the integration of Chinese and Western cultures has resulted in a hybrid urban landscape. From the 470-plus historical building complexes around Central Street and in the Old Daowai District that have been preserved intact, you can see a wide range of architectural styles including typical Baroque, Classicalism, Romanticism, Jewish and Russian. All these buildings, constructed in different historical periods by both Chinese and foreign nationals, constitute Harbin's valuable historical and cultural heritage and have made the city worthy of the title "Museum of International Architecture."
Central Street
It's easy as a visitor, riding a taxi across the broad modern avenues or narrow old streets of Harbin, to become captivated by the city's diverse architecture from around the world. Central Street, where stand Harbin's most distinctive buildings, epitomizes its culture and history.
First built in 1898, Central Street has witnessed the vicissitudes of the commercial hub and contributed to its prosperity. Its architecture, with the unique blend of European and Oriental features, has given rise to Harbin's epithets as the "Moscow and Paris of the East."
Today, it's easy for visitors to forget the wintry chill as they roam this street, searching for the perfect picture. Walking along the 100-year-old square flagstones that pave this historical thoroughfare, they are surrounded by silhouettes of constructions that still exude a commanding presence after weathering over 100 years of Harbin's harsh climate. These singular buildings somehow form a harmonious whole, despite their individuality.
Saint Sophia Cathedral
Amid this confluence of architectural styles stand dozens of churches that signify an important part of Harbin's history. Along with its influx of international businessmen and diplomats came a surge of religious activity that reached its peak during the period 1932-1942, when every denomination of Russian expatriate could find a place to worship. In 1940, there were 50 churches in the city. With their styles as varied as the city around them, they have added to the unique and appealing landscape of Harbin, and the culture they brought with them remains a distinctive feature of the city.
Saint Sophia Cathedral is the jewel in the crown of local Christians' historical legacy. To this day it is one of the most magnificent structures in the city. It was first built by a Russian infantry division stationed in the city in 1907, and was later extended. In 1920, Saint Sophia Cathedral was the biggest Orthodox Church in the Far East.
The red brick 53.35-meter-high cathedral is laid out in the traditional shape of a cross, with its main hall topped with a huge Byzantine green dome that is surrounded by four smaller Russian style steeples. Inside, icons adorn the walls and a large chandelier hangs from the ceiling. The belfry holds seven brass bells, on which a single skilled bellman can play a cadenced peal by using both his hands and feet.
Surrounded by bustling, car-filled streets and modern businesses going about their everyday trade, the church is a frozen tableau of Harbin's past. Peering at the grand church and hearing the bells' lingering toll at dusk, it is easy to slip out of the present day and imagine oneself here 100 years ago, when Russian immigrants made their devotions as black-robed priests intoned sacramental rites.
A Fairyland of Ice and Music
Although swathed in snow and ice during significant portions of the year, Harbin's citizens are not cowed by its harsh climate. It is at its most spectacular and vibrant in the depths of winter, as ice sculptures appear among its more permanent landmarks.
At sunset, when the magnificence of its architectural past falls into darkness, a new world comes alive. Even on the most chilly winter evening, you can catch glimpses of people dancing as melodious piano, violin and accordion music drifts on the breeze. The night spectacle of the city is as impressive as during the day, but more dazzling as ice sculptures of various sizes glitter against an array of colorful lights to create an icy wonderland. By WEN XINGYU, ZHU LIDAN & QIN XIAOYAN
Source: China Today