Li Weiyi and the wolf Green huddle near a rabbit hole, as she trains the animal to hunt. Photos provided to China Daily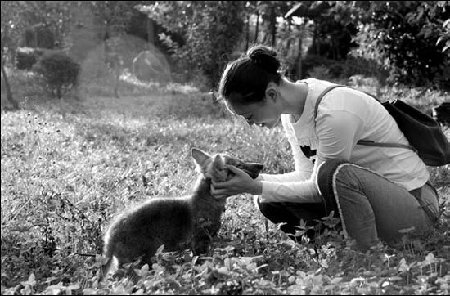 Li Weiyi plays with wolf cub Green on the grass in their early days together.
Li Weiyi bids farewell to Green as she sets him free to the wild.
A painting by Li Weiyi shows a slaughtered wolf with her cub by her side.
A young artist sketching in remote grasslands meets a wounded wolf cub, and finds new purpose in life, Mei Jia reports.
For Li Weiyi, a Chengdu-based painter born in the 1980s, her sketching tour to Zoige grassland in northwestern Sichuan province offered an unexpected and life-changing encounter with an orphaned wolf cub.
"His ears stuck to the head, his fur was hard and looked like dried grass. He was weak and nearly dead. I wanted to help," Li says, vividly remembering the first time she saw the cub.
The young painter has a gentle face and speaks softly in an interview in Beijing, her long hair braided. She seems an unlikely candidate for a wolf rescue.
Wolf Totem author Jiang Rong, whose book on the Mongolian wolf culture has sold millions, says it's a miracle that Li succeeded in doing what he failed to do as a younger man: adopt the cub, take him to the city, and return him to the grassland wilds.
Like Jiang, Li recorded her 10-month experience with the wolf.
She says she hopes her book, Return to the Wolf Pack, can change stereotypes about wolves and excite more people about preserving nature.
The book's 200,000 initial printing sold out just three months after its launch in 2012. A film adaptation is in the works.
"Wolves are not dogs, and they're never pets. They're untamable, independent and have their own characters," Li says, showing the scar of a bite on her right hand.
"My wolf taught me a real spirit of self-reliance and to respect individual features," she says. Though she hasn't mingled with the wolf for months, she can still mimic its grunts and howls during the interview.
Li was born in Ya'an, a city in southwestern Sichuan, to a teacher's family. She left home at the age of 8 and went alone to the provincial capital Chengdu, where she sharpened her skills in drawing.
Since her teens, she has been able to support herself while keeping up with her studies. Always an animal lover, "I'm keen on observing and copying them," Li says.
Although she has a degree in foreign language, she now lives a freelance painter's life.
In April 2010, Li went to Zoige to seek inspiration for her art. And in the highland's pasture area, she heard about a litter of six wolf cubs whose father was killed and mother fatally poisoned.
Li tracked down the only surviving cub, which was then faking death for self-protection.
Afraid of being bitten, Li watched the cub from a distance and randomly uttered several howls of lament. The little wolf reacted and leaned into her embrace, and Li savored the connection.
Fighting a high fever, the cub was weak. Li decided to take him to the city for treatment and adopt him. She named him "Green", homophonic to the Grimm brothers, whose tales feature a lot of bad wolves.
"I hope my Green will rewrite the bad wolf tales," Li says. "Wolves are smart and dignified, and even humane."
Li had saved many homeless dogs before she took in the wolf cub. But this was different.
"He bites ferociously, without regard for hurting the feeder," she says.
When the cub was a month old, Li started to take Green out for exercise. Green refused to be chained or be dragged by the chain.
"To protest, he once frayed his belly against the cement ground when I dragged him," she says.
She says the two later "agreed" on the chaining but only for pretence. Green would decide which way they would walk, and he'd take the lead.
To hide the wolf from her parents, Li moved Green to the house of her friend Yi Feng, who offered encouragement.
Li read a lot to gain knowledge on feeding Green; she even e-mailed international conservation organizations abroad for information.
Among the written resources, Wolf Totem has inspired her a great deal.
"When I first read the book years ago I thought that the writer was exaggerating on the wolves' special qualities. Then I saw he was telling real stories," Li says.
Li played the role of fellow cubs with Green, playing or competing with him. She got hurt frequently. She even tried to teach Green wolf howls by playing recordings and demonstrating.
Growing bigger, Green became a threat in city life. Though sad about separation, Li took Green back to the grassland where he was born in 2010 and made a plan.
"I didn't want to deprive Green of the freedom he deserves," Li says.
Li took three steps, placing Green first among Tibetan Mastiffs, then into the wild and then into the wolf pack. All along, she acted with the wolf and trained him like a mother wolf.
To teach Green to hunt, Li huddled with Green in front of a rabbit hole for hours. In return for the love, Green greeted his "mother" every morning through the window, and left her with the stones he collected from the wild as gifts.
When Green was finally accepted by the leader of a wild wolf pack in February 2011, Li watched as his footprints disappeared in the distance on the snowy ground.
From a little cub, Green had grown into a wolf 90 cm tall from the head, and 100 cm long, not counting the tail. Li was reluctant to turn to the next page of her life, without Green. She returned to the grasslands several times afterwards to look for the wolf, but never saw him again. Now she wants people to understand the wolves' importance in the ecological chains. According to an incomplete survey, the number of wild wolves in the country is in the thousands.
Most important: She'd like to wipe away the common notion that wolves are evil.
"Wolves carry the essence of grassland spirits of respect, freedom and equality," says CCTV anchor Bai Yansong, an Inner Mongolian native, after reading Li's experience.
Li says months with Green turned her into a stronger woman.
"Even the young wolf can find ways to adapt and survive. How can I lose or show fear in front of my own battles?" she says.
Contact the writer at meijia@chinadaily.com.cn.
By Mei Jia