Chengzi Village is about 25 kilometers away from Luxi (泸西) County, Honghe Prefecture. It's well-known for its earthen houses, a quite popular Yi ethnic architectural style in Yunnan Province. Several historic and cultural sites have been found in the village, such as the Mansion of Chieftain Ang, the Former Residence of General Li, and Jiemei Walls (Sister walls) etc. It's regarded as "a living fossil" on the history of Chinese folk residences.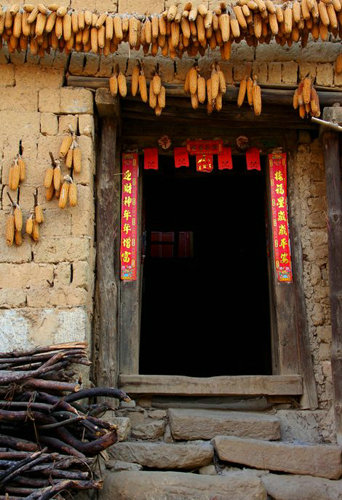 Pass ways are sometimes going right through buildings and maize is everywhere; in bamboo containers on the roof or just hanging on the walls. Courtyards are chaired between animal and man.
The Yi dwellers of Chengzi have gotten along very well with each other. They always farm and live on a mutual-help basis. Inside the village, there hasn't been any willful defense between families since the time these earthen houses are arranged side by side by the ancestors of the villagers.
The upper part of the village with the new village at the background.
Strolling leisurely in Chengzi Village, you will better feel the antiquity of the walls, the vicissitudes of the slabstones, the harmony and simplicity of Chengzi residents. The old and mysterious culture and history of the castle is to be entirely unveiled.