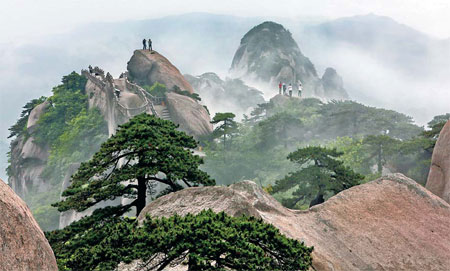 Tianzhu Mountain's peaks pierce a sea of clouds and tall pines sprout on the top. Photos by Wu Duochao / for China Daily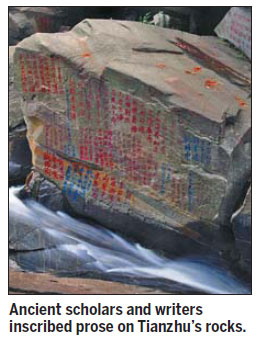 Tianzhu Mountain's majesty enticed men of letters to leave their calligraphic legacies on its face. Lee Hannon reports.
It is known as the Heavenly Pillar, rising into the clouds to hold up the sky, and upon first glimpse of Tianzhu Mountain, it is easy to see why it has become a celestial high.
Located in Qianshan county in Anhui province, Tianzhu's highest peak reaches nearly 1,500 meters above sea level and offers some breathtaking views of a picturesque beauty unspoiled by tourist hordes.
At 170 km south of Anhui's provincial capital Hefei, Tianzhu might not be the easiest place to visit, but for those willing to invest the time, the rewards prove divine.
The historic national site draws more than a million visitors a year, who come to marvel at the magnificent scenery, which, like a fine wine, has aged beautifully with time.
Tall green pines sprout from dozens of peaks, strewn with bamboo and scattered with stones shaped in an assortment of sculptures crafted by Mother Nature and polished by thousands of years of changing seasons.
Mighty and majestic, the forest and geological area is split into eight parts spread over more than 80 sq km, including emerald waters, serene caves and dazzling waterfalls that drop like shimmering curtains.
In every direction, alluring scenes capture the imagination and cascades through one's thoughts like the flowing water forever on its journey.
Since ancient times, these rural wonders have been a source of inspiration for China's men of words, who inscribed their prose into stones as the water slowly tumbled by the cultural park of Shanguliuquan.
And with it, generations of the great and good have returned to find meaning in what was inscribed in the cliffs by the country's literary gods from hundreds of years before.
These include the Song Dynasty (960-1279) economist, statesman, chancellor and poet Wang Anshi (1021-86), who attempted controversial social reforms until he fell out of the emperor's favor.
Even today, people return to read his words etched into the stones of time or simply to pay homage to a man who believed the state had a responsibility to provide a decent living standard for people, tried to break up private monopolies and attempted to suppress nepotism.
His work was admired for its simple, fluent reasoning, and more than 900 years after his death, historians, politicians and literary figures still return to marvel at how remarkably close his theories were to the modern concepts of a welfare state.
The site, often visited by literary schools from around the world, also contains the work of one of China's most famous calligraphers, Huang Tingjian (1045-1105), who spent his life mastering the skill and is known for his penmanship and poetry.
And one of the Song era's major poets, Su Shi (1037-1101), rightly has a place on the rocks of poetry that need touching up with a daub of paint every few years to save them from being washed away by the elements.
Su was also one of the oldest known travel writers. He'd pen his experiences in day-trip essays using narrative, diary prose styles. His work would often contain an abundance of geographical, cultural and technical information, but its main purpose was to convey a moral or philosophical argument.
It would be a gifted fool who had a penchant for prose or power and didn't make the journey to Tianzhu's mountain of words and birthplace of Peking Opera's creator, Cheng Changgeng (1811-80).
The area is also home to Sanzu Temple, one of China's most historic.
Sanzu was first built at the mountain's southern gate during the reign of Emperor Wudi of the Southern Dynasties (AD 420-589). In AD 758, Emperor Suzong of the Tang Dynasty (AD 618-907) renamed it.
It consists of the Thousand-Buddha Hall and the Mahavira Hall and enshrines a huge white marble Sakyamuni statue - the biggest of its kind in East China. The third founder of Zen Buddhism passed away in the temple and was buried on the grounds.
The tranquil setting of the ancient Zen temple is shrouded in a mysterious haze. Incense fills the air, and the sound of the bell echoes around what has remained prosperous for 1,500 years.
History has been kind to Tianzhu, and a new 110 million-yuan ($17.6 million) cableway, which can carry 1,600 people per hour to the main peak in just under five minutes, will ensure even more visitors get to enjoy the splendor of this magical scenic spot for many years to come.
Contact the writer at leehannon@chinadaily.com.cn.
Ma Chenguang contributed to this story.
By Lee Hannon (China Daily)