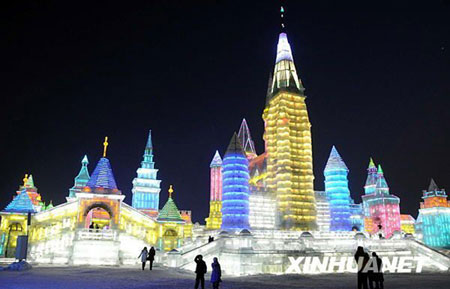 Harbin Ice and Snow World (Photo/Xinhua)
As the northernmost province of China, Heilongjiang features the largest alpine barrier lake in China, the largest Eastern Orthodox Church in the Far East, a number of nature reserves, and numerous snow activities during the winter.
The following are the top 10 attractions in Heilongjiang.
Top 10: Harbin Ice and Snow World(哈尔滨冰雪大世界)
Established in 1999, the Harbin Ice and Snow World is by far the largest ice and snow art exhibition and amusement park in the world, which shows the unique charm of ice and snow culture and tourism. It usually opens in late December or in early January and lasts for about three months, along with the Harbin International Ice and Snow Sculpture Festival.
The ice carvings here are regarded as some of the world's finest examples of ice art, where visitors are able to admire some of the largest and most majestic ice-sculpted masterpieces to be found anywhere. It is also a center for various forms of entertainment, such as ice rock-climbing, skating, skiing, sliding, snow fights, ice golf, and ice archery. Special performances based on the festival theme are put on throughout the event.
Admission: Adult: 300 yuan (US$47.35)/person; Kids: 160 yuan (US$25.25)/person; (Subject to change each year)