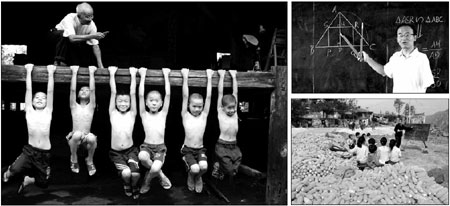 Clockwise from left: Retired teacher Lin Jianping still gives physical education courses in Dazhe county in Zhejiang province's Lishui. Middle school teacher Zhang Leipeng, who lost his left arm in a childhood car accident, gives math classes in Pinglu county, Shanxi province. Zhang Baofu teaches many students in a cornfield in Xiaodianhe village outside Henan province's Xinxiang city because the school is in a remote mountainous area. Photos Provided to China Daily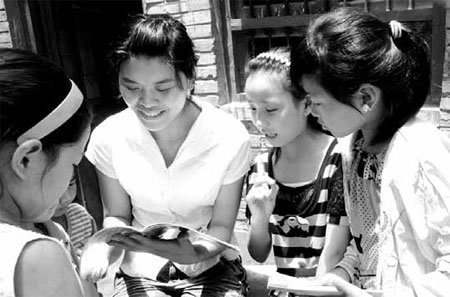 Li Ling reads books with her students in Xuwan village, Zhoukou city. Chang Liang / for China Daily
Editor's note: Today is Teacher's Day. On this special day, China Daily is honoring the country's rural teachers, who face incredible challenges to offer underprivileged children brighter futures.
The page's photographs are collected from an exhibition organized by China Central Television and Guangming Daily newspaper. China has 8.4 million teachers working in the countryside, according to the show's organizers. Each image has an incredible story behind it.
On Sept 8, they were unified for the first time by an online platform that enables them to share teaching materials and methods.
They need all the help they can get. Rural teachers and students face formidable challenges. They must often make treacherous journeys to their schools, combat high drop-out rates exacerbated by poverty and deal with the absences of parents who are working in cities.