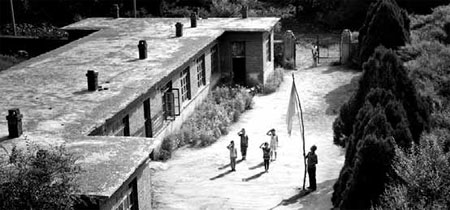 Zhang Baohua and his four students stage the flag-raising ceremony at Shuangshanzi Primary School in Liaoning province. Teng Liming / for China Daily
Shuangshanzi Primary School in Liaoning province's Quanjuyong township had hundreds of students in the 1990s.
Today, it has four. And it has only one teacher - Zhang Baohua.
The school is where Zhang's teaching career began 30 years ago - and likely where it will end in about three years.
The school used to be one of the area's best. Several graduates went on to Beijing's top universities, such as Tsinghua and Peking.
Shuangshanzi is the only school left in the vicinity, Zhang says.
"The road connecting the school to the village's households is too rough to be used on rainy days," he says.
"So, the teachers and students gradually moved to a boarding school near the county town."
What Zhang calls a road is actually a former riverbed. It melts to slop when it rains or snows - even just a little.
The four students, however, still attend Zhang's school because they can't afford the new school's tuition and - at ages 8-10 - are too young to board there.
Teng Liming, a 43-year-old photographer in Liaoning province, heard of the school by chance. He drove for about two hours this May to find it.
He recalls his first visit.
"They were staging the flag-raising ceremony," Teng recalls.
"Four kids were raising their hands in a salute, while Zhang was raising the national flag and holding the wooden flag pole with one hand."
Teng didn't get much time to talk with Zhang because the teacher had to instruct every class for the kids.
"He not only taught classes but also cooked their lunches and watched over them during their noontime naps," Teng says.
Zhang explains the students are often naughty.
"Sometimes, they lose their shoes while playing outside," he says.
But despite its size, the school doesn't lack much compared to its peers.
In addition to academic subjects, Zhang teaches music and physical education, during which the 50-year-old holds the kids' jump ropes. The only class he can't teach is English, says Zhang, who graduated from a teacher's college in the 1980s.
"I'm studying English every day," he told Teng, who noticed several English-language textbooks on Zhang's desk.
"I'm teaching myself, using my daughter's textbooks. It's hard for me to start a new language at an old age. But the students would be disappointed if they didn't have English classes like the kids in town."
Zhang's son and daughter both went to university in Liaoning province. His daughter graduated this year and teaches at a middle school in Liaoning.
Teng spent two nights at Zhang's home, which is more than 7 km from the school. Zhang must take the riverbed to school every day.
The local government has tried to close the school several times, but the children's parents stood in the way because they believe Zhang is an exceptional teacher. His students always get high scores in standardized tests at the end of every semester.
"My greatest wish is they all go to a good middle school in two or three years," Zhang says.
"My teaching career will end then. But these four children will always remain my life's greatest treasure."
zhangyue@chinadaily.com.cn