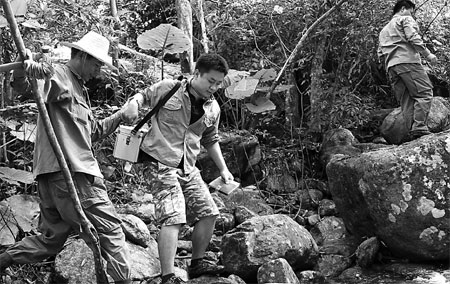 Workstation members at Hainan's Yinggeling Natural Reserve trek in the tropical forest as part of a research project. Huang Yiming / China Daily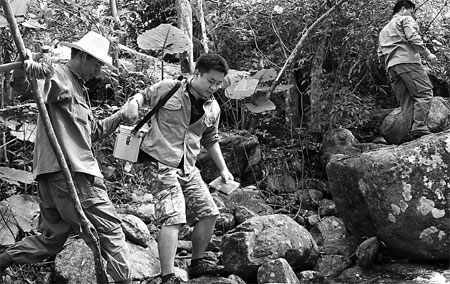 Workstation members at Hainan's Yinggeling Natural Reserve trek in the tropical forest as part of a research project. Huang Yiming / China Daily
Hainan's Yinggeling Natural Reserve is benefiting from a scientific research and management base built in the biologically diverse tropical forest, report Huang Yiming in Haikou and Liu Xiangrui in Beijing.
Unlike most of her classmates who competed to stay in the cities, Xu Biguo made her way directly from the city to the secluded mountains of Hainan province in 2007.
Xu, 28, is one of 27 college graduates, two with doctorates, who work at Hainan's Yinggeling Natural Reserve and built a scientific research and management base out of virtually nothing over the past five years.
The reserve, located in central Hainan's mountainous region, covers an area of 500 square kilometers.
It is regarded as the "lungs" of the island province, whose two largest rivers originate there. Its biologically diverse tropical forest is the largest of its kind in China.
The Hainan Bureau of Forestry decided to establish a workstation in the reserve and started to recruit graduates from universities around the country in 2007.
Majoring in ornamental horticulture at university, Xu, who found the work not far from her hometown, applied and became one of the six "early arrivals".
"I had worries before I came. And to be honest, I was a little disappointed when I first got here," Xu says. "I expected an office building at least."
Both the working and living environments were tough in the beginning, Xu recalls.