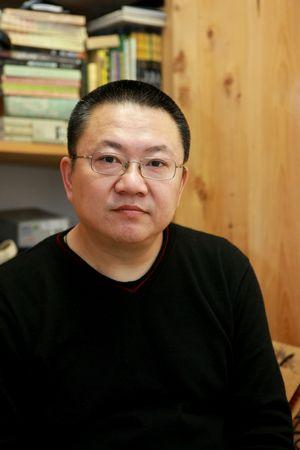 Chinese architect Wang Shu [File photo]
China's modern skyline is full of iconic buildings, more and more of which are shooting up every year. Most of the internationally renowned architects responsible for them are just that – international. With so few Chinese architects making their mark on China's cityscapes, 49-year-old Professor Wang Shu's winning of this year's prestigious Pritzker Architecture Prize has come as a welcome surprise.
The roof of this complex at the China Academy of Art was covered with two million tiles salvaged from demolished houses.[Photo/Agencies]
Wang Shu's career is peppered with distinctive achievements that have made him a prominent figure in the architectural world. In China, the architectural community sees this as proof of the progress China is making, and as a promising sign for its emerging architects. The prize not only acknowledges the quality of Wang Shu's work, but also China's growing importance across the board. Thomas J. Pritzker, chairman of the Hyatt Foundation which sponsors the prize, said when announcing the jury's choice, "The fact that an architect from China has been selected by the jury represents a significant step in acknowledging the role China will play in the development of architectural ideals."
Innovation through Preserving the old
Wang Shu started his career as researcher of the environment and architecture in relation to the renovation of old buildings. This topic has influenced his work ever since. As an architect he is meticulous and does not run headstrong into any design without proper considerations. When offered a project to redesign a four-kilometer-long historical street in Hangzhou, after initially declining, Wang stipulated three conditions. "I thought that these rigorous requirements would prompt government leaders to find someone else," Wang said, "but to my surprise, they accepted."
First and foremost, determined to avoid the typical model for government projects where half a year is set aside for the design and buildings are then constructed in a rush, the authorities had to allow him half a year just to carry out research. Wang expected to finish construction in no less than three years. His other two requirements addressed common features of government redevelopment schemes whereby old houses are demolished to be replaced with new replicas, and long-term residents are cleared out to make room for businesses. Such an approach would result in a cold, business-orientated street.
Insistence on preserving existing traditional buildings imbues Wang Shu's work with a striking blend of modernity and tradition. This is partly why Wang Shu won the Pritzker Prize. "The question of the proper relationship of present to past is particularly timely. The recent process of urbanization in China invites debate on whether architecture should be anchored in tradition or look only toward the future," said Lord Palumbo, chairman of the Pritzker jury. "As with any great architecture, Wang Shu's work is able to transcend that debate, producing architecture that is timeless, deeply rooted in its context and yet universal."