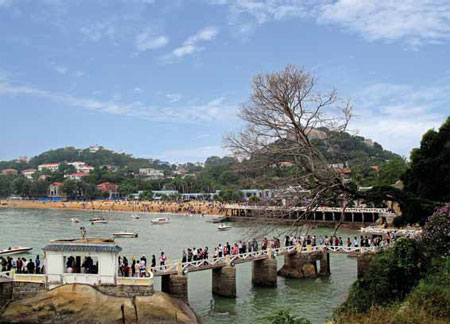 Above: Tourists can walk around Gulangyu while enjoying the beautiful seaside view. Below: Gulangyu island features architecture from different countries, built in the colonial period in the 18th century. Photos Provided to China Daily
'Most romantic city for vacation' is a big draw for tourists
Acoastal city in southeast Fujian province, Xiamen has been an important port and trading hub since imperial times. The city has continued to build on its strong commercial ties and in 2011, its total foreign trade value hit $70.1 billion (56 billion euros), up by 23 percent from 2010. It also recorded total foreign investment of $2.24 billion, up by 36.4 percent during the same period.
Xiamen was listed as a special economic zone in 1981 and industry continues to play a major role in its economy. In 2011, its GDP hit 253.5 billion yuan ($40 billion, 32 billion euros), up by 15.1 percent from 2010. Other key industries include international trade and tourism.
Xiamen has also made plans to promote its cultural industry as a new growth engine. The city plans to cultivate 50 big culture-related companies and 30 projects as well as build 10 culture-related industry parks. Its aim is to achieve a 25 percent annual growth in the sector and have it form 10 percent of the city's GDP by the end of 2014.
Due to its proximity to Taiwan, Xiamen has also built up close economic and cultural links with the island including those in the financial and emerging industries.
Boasting more than 700 years of history, rich southern Fujian culture and beautiful natural beauty, the city continues to serve as a rewarding destination for both Chinese and foreign tourists. Regarded as "a garden in the sea", Xiamen provides a beautiful home for 3.61 million residents and received 35.2 million visitors last year. In a survey conducted by the China Tourism Association in 2011, the city was also labeled "the most romantic city for vacation" in China.
Here are some of the city's highlights:
1. Gulangyu Island (Drum Wave Islet in Chinese)
Situated in the southwest of Xiamen, Gulangyu is considered the must-see destination for visitors. The island is full of scenic spots and the architecture of different countries from the colonial period in the 18th century, when it was used as an international settlement. People can find temples in traditional Chinese style, Japanese cottages and original Western consulates in the European style.
In 1988, the island was listed as a State-level scenic area. As the island is home to many renowned Chinese musicians and pianists, it is also called the Island of Music.
Today, it is still the only island in the country that prohibits vehicles. Tourists can choose to spend three to four hours walking around Gulangyu while enjoying the beautiful seaside view, or walk right into the winding streets in the center of Gulangyu, and explore the unexpected and sophisticated combination of Eastern and Western cultures.
Ganghouzai seaside resort is located in the south of the island and is recognized as the best beach in Xiamen. With soft sand, gentle waves and an average temperature of 21 C all year around, the resort is an ideal spot for beach lovers. It offers yachts and motorboats, as well as other forms of water recreation.
2. Xiamen University
Founded in 1921, the university is the first Chinese university founded by overseas Chinese. Besides its academic prominence, Xiamen University is famous for its seaside beauty and relaxed atmosphere.
On campus, visitors can find a collection of beautiful architecture combining Chinese and Western styles, various tropical plants and a Lotus Lake with swans.
There are two museums: the Museum of Lu Xun, named after the famous Chinese writer, and the Museum of Anthropology, considered the only one of its kind in China.
Located in Siming South Road, the university sits next to South Putuo Temple, a Buddhist temple built on the steep rocks of the Wulao Peaks.
3. Piano Museum
This Piano Museum in Gulangyu is the only one of its kind in China. Established in 2000, the museum is located in Shuzhuang Garden. An Australian-Chinese named Hu Youyi collected more than 100 pianos and donated them to this museum.
The collection includes a gold-plated piano, a large upright piano, an old piano with eight pedals and other valuable pianos from Italy, the UK, France and other parts of the world.
Visitors can learn about the 200 years of the evolution of the piano within this small museum.
Eating and drinking
As an important branch of Southern Fujian cuisine, Xiamen cuisine is mainly served steamed, fried and stewed. Dishes are usually fresh and light in flavor, and are sometimes slightly spicy. Famous offerings include seafood and vegetarian treats.
There are more than 200 varieties of Xiamen snacks, with rice dumplings, fishball soup, oysters and barbeque sauce noodles proving most popular.
At the Huangzehe Xiamen specialty snacks restaurant in Zhongshan Road in Siming district, tourists can find all traditional snacks.
Fresh seafood is available in almost every restaurant in the city. The most recommended eatery is Xiaoyanjing food stall, located in Hubin Middle Road. The restaurant serves up fresh seafood at reasonable prices. Reservations should be made in advance.
Bar streets
Haiwan Park
This park is located in Hubin West Road. At night, many pubs light up with candles and oil lamps. Besides exotic drinks, visitors can enjoy live performances by local singers in the bars.
Bar cultural street 1973
Situated in Honglian Road in Siming district, the 1973 bar cultural street only opened in April but 11 bars have already set up shop. Expect to see about 50 bars and cafes in the street by June.
China Daily