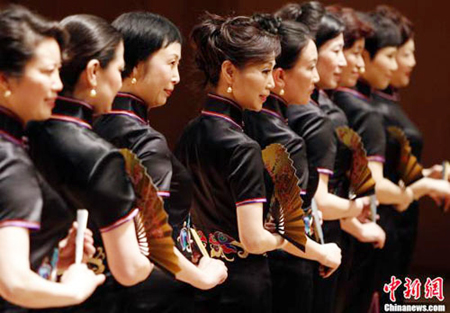 Women wearing cheongsams pose at a ceremony under the theme "Promoting Cheongsam Culture, Cultivating Elegance" at the Shanghai Oriental Art Center on May 20, in order to carry forward the Chinese cheongsam culture.(chinanews.com)
It has been a bit cold in Shanghai recently, but that did not stop more than 2,000 cheongsam fans from attending the fifth annual gathering of the Shanghai Cheongsam Salon.
A large number of tourists and local residents paused to appreciate the women of various ages wearing colorful fitting cheongsams, when they appeared before the iconic sundial in the Century Avenue.
The booming cheongsam culture among Shanghaiese women forms a fine contrast to the popularity of Han Chinese clothing among young people. With wine red curly hair, Wang Weiyu, 65, who wore a red cheongsam and exquisite pearl accessories, caught much attention at the ceremony.
Wang has been obsessed with cheongsams for several decades. Fascinated by the pictures of singers and her mother wearing cheongsams, she became deeply attracted to the traditional Chinese dress. After she retired in 2007, Wang established the Shanghai Cheongsam Salon to encourage women to wear cheongsams to show themselves. The membership of this unique salon has grown from 45 to more than 400 people, covering women from all walks of life.
Although she has been already a grandmother, Wang remains elegant and beautiful, with her wrinkles wiped away by gentle smile. "All members of the salon are graceful and confident, and talk decently, thanks to the changes brought about by cheongsams," she said.
Wearing cheongsams, the salon's members have visited Japan, South Korea, and Mediterranean countries in the past five years. Their beauty has amazed and been appreciated by local residents.
At an average age of 55, the members proposed to set May 20 as the China Cheongsam Day, in hopes that every Chinese woman will wear a cheongsam on that day to show feminine gentleness and nobleness.
Most of the salon's members are retired women, but many girls born in the 1980s have applied to join after learning about the salon. Wang is glad that more and more young girls like to wear cheongsams, including many overseas returnees. She said that she would then focus on promoting cheongsams on campuses in order to pass the culture on to the younger generation.
Chi Yiwei, who majored in flight attendance at the Zhonghua Vocational School in Shanghai, wore a cheongsam for the first time on that day. She and eight of her schoolmates wore improved cheongsams, and walked hand in hand with Wang in front of the sundial before the night fell to have a unique initiation rite. "The Oriental-style cheongsams are amazingly beautiful. I will wear a cheongsam in all future major ceremonies in my life," Chi said excitedly.
Looking at the 18-year-old girls, Wang, who is an outstanding lecturer in Shanghai's "A Million Families Learn Etiquette" project, said gently that the salon will recruit more women who like cheongsams in the second half of the year, and teach them cheongsam etiquette, so they will be beautiful both inside and outside.
Two young girls came to Wang while she chatted, and said a little shyly that they want to join the salon. Several older women wearing cheongsams were also waiting to talk with Wang about the traditional dress.
(People's Daily Overseas Edition)