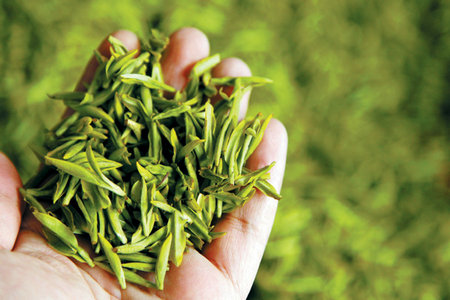 The fresh Mingqian tea from Chun'an tea plantations. 
The first spring teas to reach the markets can fetch prices that have farmers singing all the way to the bank. Xie Yu and Zhang Jianming find out how modern technology is helping the farmers make this lucrative brew.
It is harvest time in Hangzhou for Mingqian tea, a kind of green tea picked and dried before the Qingming Festival, the period of pure brightness in spring when the Chinese sweep the tombs of their ancestors in a yearly mark of respect. This year, the actual day will fall on April 4. While most tea planters, pickers and traders are at their busiest now trying to harvest as much of the tea shoots as they can before Qingming, Shao Zongqing is enjoying his profits from the early tea he had already sold.
The manager of Chun'an Seedling Cultivation Center can relax because all the tea buds on his bushes have been harvested, dried and sold. He did not have to worry about the spring frost or sudden rains that may have destroyed the tender buds. His tea is grown in greenhouses.
Shao's tea was one of the earliest spring teas sold this year. The bids for the very first Mingqian tea topped 72,000 yuan ($11,400) per kilogram in February. His workers are now pruning the tea bushes to help them grow faster for next year's harvest.
"We'd finished working on all the early tea bushes, sold off all the processed tea leaves, and we can now focus on harvesting other kinds of spring teas. They are also very valuable before Qingming," Shao says.
He had managed to produce 200 kg of the Mingqian teas this year, and the average price he got was more than 10,000 yuan per kilogram.
Mingqian tea is known for its tender buds and rich fragrant bouquet, and it's valued for its quality.
However, the temperatures before Qingming are generally low and often unpredictable. The tea shoots are few, and they grow slowly. Few shoots actually meet the exacting standards that are set. They have to be plucked before they harden and mature, but must still be flavorful enough. Thus, Ming- qian tea is pretty rare.
Because of its value, tea producers have not stopped trying to bring forward the normal harvest time of the spring tea, catering to the Chinese tea drinkers' obsession for tasting the first buds of spring.
This commercial opportunity has stimulated experiments, many of them aided by modern technology.