Apart from government's support, the founder also called for attention of the international community in carrying forward the Tibetan culture, an integral part of the splendid Chinese culture.
Lozang Khedup, 35, a local Tibetan monk, is one of the center's two Thangka painting teachers.
He said, "Thangka has been increasingly becoming a handicraft, thus losing its cultural connotation. It is expensive only for its valued pigments and workmanship, not for its cultural meaning."
He noted that nowadays, lots of young people consider culture as a certain object, for example, a piece of Thangka.
As a matter of fact, he said, an object is only the carrier of the culture, not the culture itself; therefore, teaching the Tibetan culture is more important than the Thangka painting skills.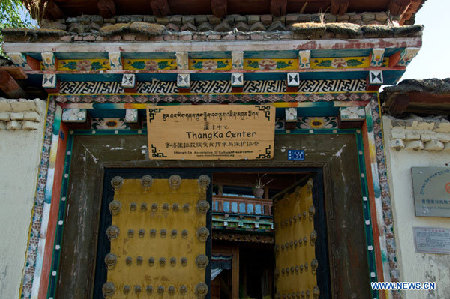 Photo taken on Oct. 25, 2011 shows the Thangka Center in Shangri-la county, Deqen Tibetan Autonomous Prefecture, southwest China's Yunnan province. The center, jointly founded by a group of volunteers, is dedicated to protecting and inheriting the Tibetan ethnic culture. [Xinhuanet/Yang Lina]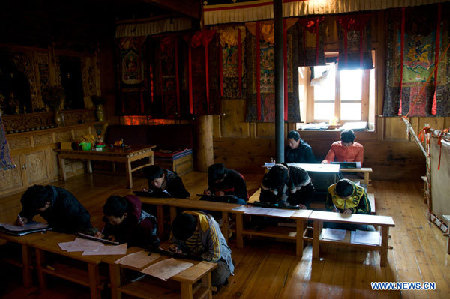 Tibetan students learn the Thangka painting skill in a classroom in the Thangka Center in Shangri-la county, Deqen Tibetan Autonomous Prefecture, southwest China's Yunnan province. [Xinhuanet/Yang Lina]
Source: Xinhuanet
Editor: Liu Fang