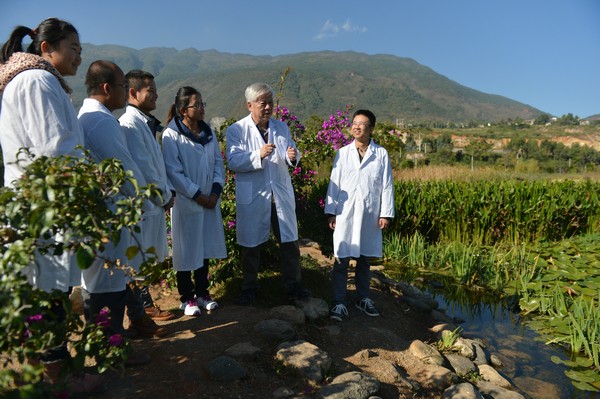 Kong Hainan, a guest professor of Shanghai Jiao Tong University's school of environmental science and engineering, instructs his students in Dali, Yunnan province. CHINA DAILY
In the past two decades, Kong Hainan has spent over 200 days a year conducting research near Erhai Lake in the Dali Bai autonomous prefecture, Yunnan province. His work is part of the effort to evaluate the ecology of the lake, which is recovering from serious pollution.
The guest professor of the school of environmental science and engineering at Shanghai Jiao Tong University may already be 70, but he still takes an average of 30,000 steps per day because of his research, leading a team of experts and students to collect samples from villages in Dali.
To prevent the deterioration of water samples used in their analysis, Kong and his team rented a local farmer's home that is located 200 meters away from the lake. With the assistance of the local government, they turned the home into a lab for processing samples.
More than 1,000 teachers and students from the university have joined the team, and around 20 stay in Dali for field research every year.
Kong became involved in this field during his undergraduate studies on environmental medicine at the Tongji Medical College of the Huazhong University of Science and Technology in the 1980s.
During his research on the environmental pollution of a large lake in China in 1982, he discovered the lake contained a large amount of pesticide and wastewater that was discharged by a chemical factory. His research revealed a much higher cancer risk for residents living near the lake compared to other people, he recalls. "Even the appearance of the ducks in the lake had changed. I was shocked. It was then that I made the resolution to dedicate my life to tackling lake pollution issues."
Kong worked as a researcher at the Wuhan Environmental Protection Science Academy in Hubei province, after graduating in 1983.Four years later, under sponsorship by the local government, he went to the National Environmental Research Institute in Japan to perform comparative research on the protection of lakes in China and Japan.
"I learned through this valuable experience that science and technology cannot provide the most effective solutions to environmental issues. It requires the joint effort and support of governments at different levels, enterprises and banks, as well as awareness from people," he says.
Following his return to China in 2000, Kong worked as a professor at Shanghai Jiao Tong University where he, along with other experts, reported their findings of the condition of Erhai Lake to the central government. The lake then, he recalls, was badly polluted, even emitting a stench. After years of studies and preparation, the State Council approved and established a major national water pollution control and treatment project for Erhai Lake in 2006.
The first thing Kong's team did was to introduce to the region the soil purification tank technology which can treat up to 250 tons of sewage per day.
Kong's team also discovered that the local ecology was threatened by garlic planting, a major source of income in the area. "Garlic oil is a popular healthcare product worldwide. The oil content of a purple garlic in Dali was five times that of an ordinary one, and its price was 10 times higher," Kong says. However, a large amount of fertilizer and pesticides were used in the cultivation of garlic, and this resulted in harmful algal blooms in the lake.
To solve the problem, Kong led his team in the building of wetlands around the lake to absorb pollutants and filter wastewater. He also introduced eco-friendly economic crops, such as cherries, blueberries and grapes that local farmers can grow instead.
Today, water from the lake is finally potable, though he notes that it may take another 20 years for the lake to return to its original state.
Last year, Kong donated 2 million yuan ($299,141) to launch an education fund for talented youngsters committed to the protection of Erhai Lake. The fund is jointly managed by the China Water Environment Group Limited and the Yunnan Dali Research Institute at Shanghai Jiao Tong University.
caochen@chinadaily.com.cn