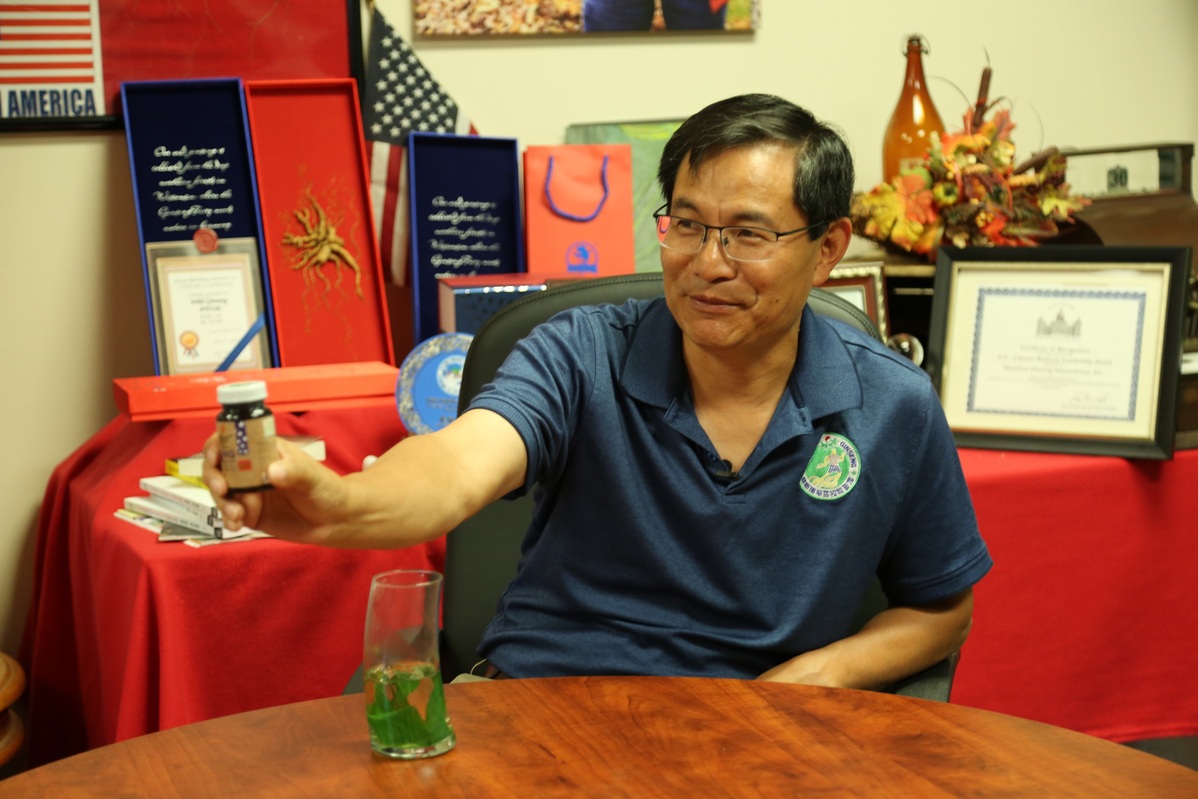 Ginseng farmer Jiang Mingtao at his company in Marathon County in the US state of Wisconsin. [Photo by Liu Ya'nan/Xinhua]
CHICAGO - Jiang Mingtao, a ginseng farmer in Marathon County in the US state of Wisconsin, has maintained the daily routine of taking care of his ginseng fields, weeding and spreading hay to prevent small animals from digging and eating the crop.
Harvest will start in less than a month, but Jiang is a bit worried. Trade tensions between China and the United States have dealt a big blow to his ginseng cultivation business, and now the prevailing COVID-19 pandemic has further plunged the operation into uncertainty.
"As there is still inventory on the market, we have postponed many harvests until next year, and will probably harvest between a quarter and a half of our ginseng field (this year)," Jiang says.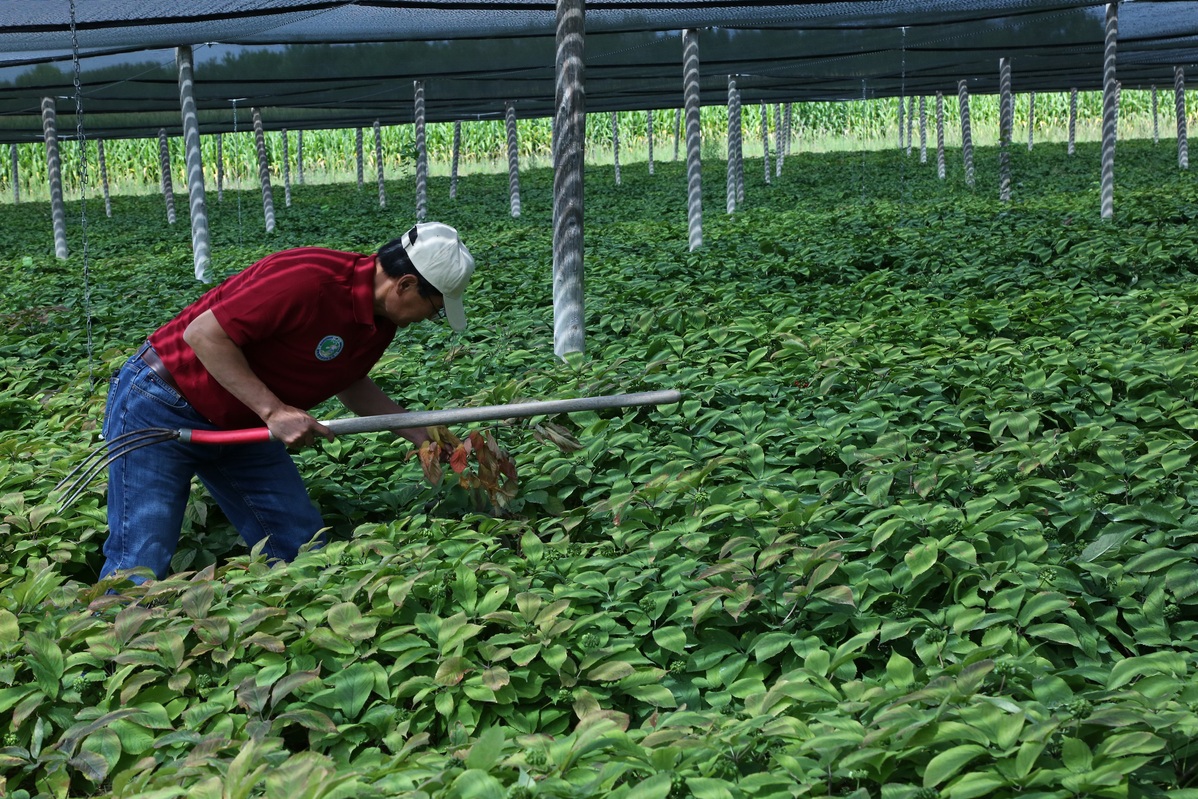 Jiang inspects his ginseng field on Thursday. [Photo by Liu Ya'nan/Xinhua]
Jiang launched Marathon Ginseng International in 2010. With China being a leading consumer of ginseng, Jiang has been targeting the Chinese market from the beginning. As of 2015, the company exported half of its production to the Chinese market.
The stay-at-home orders imposed at the early stage of the COVID-19 pandemic reduced the number of workers at the farm. Then Chinese buyers and US producers could not travel freely. "We have not received any Chinese purchase orders so far, so the export side of the business has been severely hurt."
Jiang attended the China International Import Expo in 2018 and 2019, where he got acquainted with many Chinese businesses and clients and signed letters of intent for cooperation.
"Due to quarantine policies, I cannot attend this year's CIIE," Jiang says sullenly. "But our distribution partners in China may attend the fair."
Wisconsin ginseng enjoyed a good reputation in China. In 2017, before tariffs started, the state exported 14 million dollars worth of ginseng to China alone, up more than 16 percent from 2016. The US' total ginseng exports were valued at about 30 million dollars in 2017, and China was the biggest buyer.
Now there are few flights between China and the US, and Wisconsin's ginseng export to China has decreased dramatically. "Many ginseng farmers (here) plan to retire this year, and are selling their tractors, planters and ginseng-picking machines," Jiang says.
As for Jiang, he is shifting focus to sales within the US. At the early stage of the pandemic, he provided ginseng tea free of charge to more than 1,500 local households. He also promoted wearing masks and introduced Chinese experiences of quarantine on the company's social media accounts.
"Our Chinese partners sent us protective masks. We also bought some. Together we donated these masks to local hospitals and nursing homes," Jiang says.
As for the prospect of the ginseng industry, Jiang says, "Until the pandemic is under control, and until China-US relationship improves, I am not optimistic about the ginseng industry."
He notes that ginseng is a niche product and has a unique presence in China and the world, and ginseng cultivation in Wisconsin will continue, albeit on a smaller scale for now.
Xinhua