China's Best Museum Exhibitions of 2019 Awards were unveiled recently. Twenty-nine winners distinguish themselves in five categories. The annual event, dubbed the Oscar Awards in China's cultural relics realm, has now completed its 17th run since its inception in 1997, receiving 114 applications from various types of museums.
The winning exhibitions cover a wide range of themes, including art, science, history, natural history, and modern revolutionary history, and offer various perspectives on and interpretations of artistic, historical, or scientific collections. Notably, two categories of awards are dedicated to international joint exhibitions to promote cross-cultural understandings between China and the rest of the world.
Permanent exhibition of Panlongcheng Site Museum
江汉泱泱商邑煌煌——盘龙城遗址陈列
From Jan 1, 2019
Location: Panlongcheng Site Museum, Wuhan city, Hubei province
Panlongcheng site, located in today's Wuhan, capital of Hubei province, is ancient city relic that dates to the early Shang Dynasty (c.16th century-11th century BC). It was a Bronze Age cultural center along the Yangtze River and the origin of Wuhan city itself.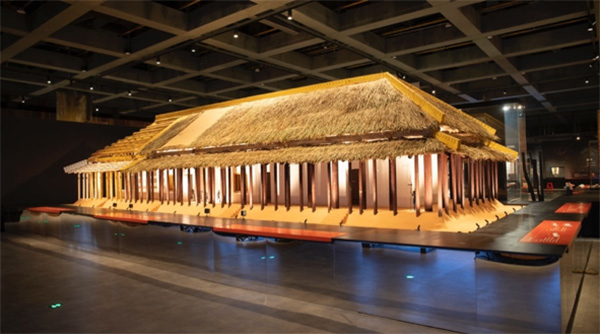 A restored palace is shown in the gallery of the Panlongcheng Site Museum. [Photo provided to chinadaily.com.cn]
The exhibition shows visitors the past and present of the ancient city, ranging from its discovery in 1954 and its historical changes to its cultural features and significance.
The exhibition includes three parts. The first is about the archaeological work done in the past 65 years and describes the birth of Wuhan city in Panlongcheng.
The second part shows the rise and fall of the ancient city, its transitions in history and cultural features. To give a full play to the profound culture of the site, the museum restores it by displaying the ancient daily lives of local residents, military facilities, folk customs, art, architecture and production activities.
The third part explains the position and influence of Panlongcheng in the Xia (c.21st century-16th century BC) and Shang dynasties, its connection with China's central plain area and surrounding regions, as well as its impact on later ages.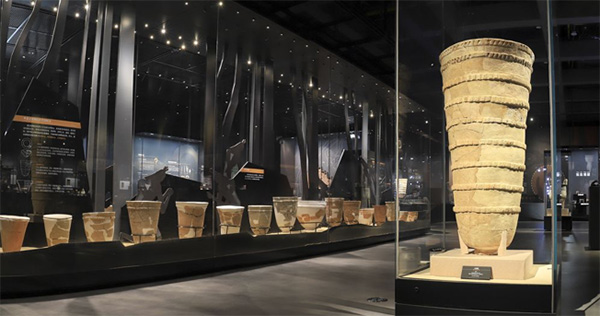 Unearthed pottery wares are shown in the gallery. [Photo provided to chinadaily.com.cn]
The exhibits include bronze vessels, jade, stone and pottery wares unearthed at the Panlongcheng site, supplemented by historic relics of Wuhan. The museum also borrowed some cultural relics from museums in nearby areas and Central China.
To learn more about the winning exhibitions, please visit http://govt.chinadaily.com.cn/topics/cultureandarts/chinamuseumexhibitions/