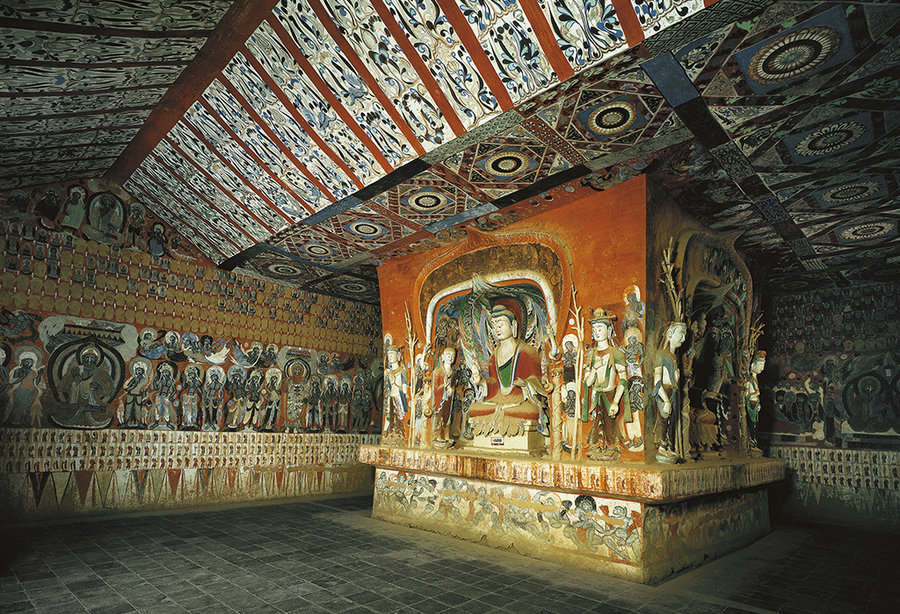 The Mogao Grottoes are home to a priceless collection of Buddhist artwork -- more than 2,000 colored sculptures and 45,000 square meters of murals -- in 735 caves carved along a cliff by ancient worshippers. [Photo/Chinaculture.org]
As one of the top cultural attractions at home and abroad, the Mogao Caves in Dunhuang, Gansu province, ranks high on Beijing artist Zhang Jie's list of must-see places.
The 32-year-old had planned to visit the UNESCO World Heritage Site in the historic Silk Road oasis area early this year, but he had to postpone his trip indefinitely amid the COVID-19 coronavirus outbreak.
"Most people are staying at home, away from public areas in their very own cities, let alone scenic spots. I can't imagine taking the risk of going to any major areas in this situation," Zhang said.
The outbreak has severely hit the tourism sector, with the number of domestic visits alone set to plunge by more than 930 million this year, falling more than 15 percent year-on-year, according to China Tourism Academy estimates.
Faced with the public health challenge, many art and cultural institutions are ramping up their online and virtual offerings so that viewers can still access them from home.
The Dunhuang Academy, which manages and researches Mogao's cave art, has rolled out an online "home travel" museum drive, as part of a major network of cultural organizations across the country, from Northeast China's Liaoning provincial museum to its counterparts in eastern Zhejiang province and southern Guangdong province, all helping to promote and maintain public interest in heritage and relics conservation.
New online sections include exhibitions via the Douyin video-sharing portal, where rare art from the Mogao's number 217, 285 and 322 representative caves will be offered in virtual reality and panoramic format "to display the timeless beauty and charm of Dunhuang from all angles", according to the academy.
Dunhuang boasts one of the world's finest repositories of Buddhist art, with the paintings, sculptures and writings in about 500 caves dating back to the fourth century and spanning the golden ages of the Tang and other seminal dynasties.
The importance of the relics goes beyond their religious significance to form Dunhuang's leading position as a cultural hub bringing together the great civilizations.
The "home travel" drive itself is the latest digitization effort by the academy to preserve and promote its treasures. Through collaborations with international art institutions in the past decades, more than 220 caves have been digitally archived, said Wu Jian, director of the academy's cultural relics digitization institute.
At least 25 exhibitions and events related to the digitized murals, sculptures and other relics have been presented worldwide, he said. The digitization continues to help viewers surmount geographical barriers and beyond, Wu said.
The digitization of the relics is not aimed at replacing the physical experience of going to Dunhuang, but to complement it as it can still be difficult for many people to travel to the site, he said.
The National Art Museum of China has also geared up its online and digital viewing offerings amid the outbreak, inviting members of the public to its exhibitions "without leaving home", according to the Beijing-based institution.
Its "Chinese Painting" online section under "A Tribute To Donors" exhibition showcases 175 works selected from more than 3,000 donations over the years.
The art spans ancient and modern times, covering the major categories of landscapes, figures, flowers and birds to help present "the basic clues and general characteristics of the development history of ancient and modern Chinese painting", it said.
Beijing resident Wang Zhixing, 46, said the exhibition could not have come at a better time.
"Being cooped up at home, it's nice to be able to come up close and personal with important works such as the landscapes of Ming Dynasty (1368-1644) master Shen Zhou and the steeds of ink master Xu Beihong. I'm glad technology is also tapped this way to keep us in touch with art," the information analyst said.
The intersecting and overlapping of art and technology are certainly increasing, according to Qiu Zhijie, dean of the School of Experimental Art at the Central Academy of Fine Arts.
"The history of art has always been about a long vein of artists using the latest scientific and technological achievements of their era to think about human art, technological progress and common development," Qiu said during a recent industry forum in the Chinese capital.
"We need to think about how we can continue to … humanize our technology so that it can really be used for our well-being."
"This latest move to share the treasures of Dunhuang offers some consolation for me since I can't go there now," Beijing artist Zhang Jie said. "I also hope it's another significant step toward the development of our cultural heritage through technology."