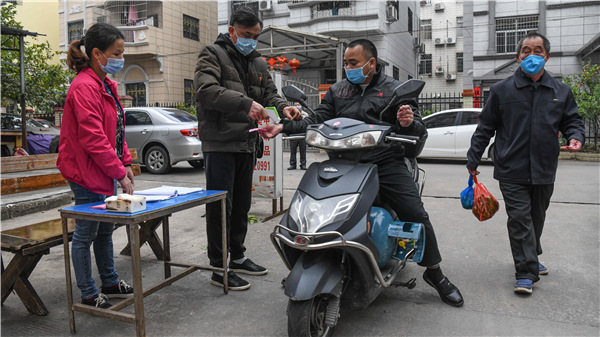 A resident gets his temperature taken at the entrance of Hongfu residential community, Qinnan district, Qinzhou of Guangxi Zhuang autonomous region, on Wednesday. [Photo/Xinhua]
It's probably the longest time that I have been stuck with my parents since I flew the nest for college more than a decade ago.
The novel coronavirus outbreak undoubtedly made the recent Spring Festival holiday one of the most memorable I can recall.
The holiday is usually the only time of year that I leave Beijing for my hometown in Fujian province in eastern China and reunite with my parents.
Over the years, in that limited space of about a week, I would often spend a considerable amount of it catching up with my old buddies and former classmates.
I didn't talk much with my parents and rarely engaged in any interactive fun activities with them, which I'm sure is the case for many other grown-ups. Yet, they never complained, and the happiness on their face when I was home had me assuming that my presence alone was enough for our get-together.
However, the epidemic had us all confined to my apartment during the holiday this year, which, surprisingly, has offered us new opportunities for intimacy.
I found my parents taking great pleasure in sharing interesting posts on social media with me and offering their own interpretations of them. Conversations ensued afterwards. It suddenly occurred to me that it is a joy that we didn't have before.
Although the epidemic put a grim complexion on things, the situation has unexpectedly offered me an opportunity to reconnect with my parents.
In addition, I saw a silver lining in more ways than one.
Whenever we watched TV or flipped through social media, such as the Chinese microblogging service Sina Weibo or Douyin, known as Tik-Tok overseas, we saw updates of the nation's fight against the virus, including real-time statistics of patients and the cured across the country, as well as expert lectures on virus prevention, and the latest discoveries and treatment about the virus.
The extensive coverage has not just kept each of us informed, but turned out to be very educational.
My mother, in her 60s, is a creature of habit, and she has been a firm believer in handpicking groceries when shopping on her own for as long as she has lived. At the beginning of the virus outbreak, she gave in to her inner drive and insisted on going to the supermarket, with the idea that catching the virus was as unlikely as a lottery win.
Yet, after keeping abreast of the virus status and experts' advice, she came to her senses and allowed me to order takeout, which she had frowned upon before.
To my surprise, she also learned, from news coverage, how to properly sanitize the package and everything else afterwards.
My mother is certainly not the only one that fully understands the necessity of taking extra precautions.