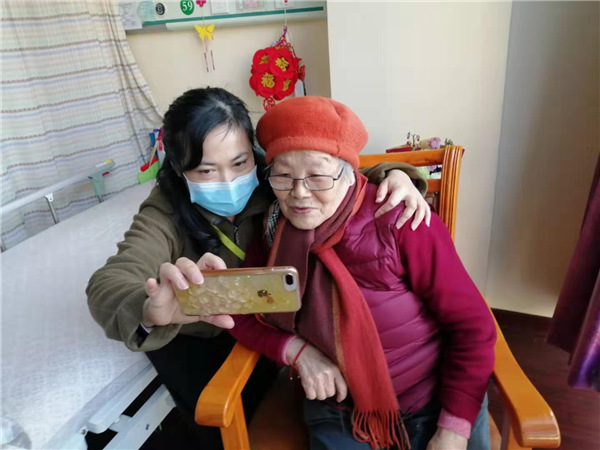 A caretaker at the Tianbao Nursing Home in Shanghai helps a resident make a video call to her family. [Photo provided to China Daily]
Nursing homes take precautions to protect residents' health during the novel coronavirus outbreak.
Eighty-seven-year-old Bao Zhanmei and her 90-year-old brother, Bao Zhankang, live in the same nursing home, but the siblings haven't seen each other for over a month.
The two, who live on different floors of the Tianbao Nursing Home in Shanghai's Hongkou district, used to meet at least twice a week. However, due to the recent outbreak of the novel coronavirus pneumonia, the nursing home has prohibited residents who live on different levels from interacting so as to minimize the risk of potential cross infection.
There are 300 elderly people living in the home.
The pair currently communicate with each other through video calls twice a week with the assistance of social workers.
According to Huang Qian, the social worker who helps facilitate these calls, Bao Zhanmei has been very worried about her brother's poor physical condition.
"After seeing her brother through the video calls, she felt relieved and happy. They talked about many things through the call," Huang says.
While most people are facing a shortage of protective supplies, the main problem nursing homes face during the outbreak is managing residents' emotions, says Chen Yan, director of the Tianbao Nursing Home.
Shanghai is home to nearly 5 million residents who are at least 60 years old, and the government has emphasized their welfare during the outbreak.
Most nursing homes and senior-care centers have suspended family visits and canceled social activities.
The 804 licensed nursing homes in the city are required to submit daily reports about the status and health of their residents and staffers to the authorities.