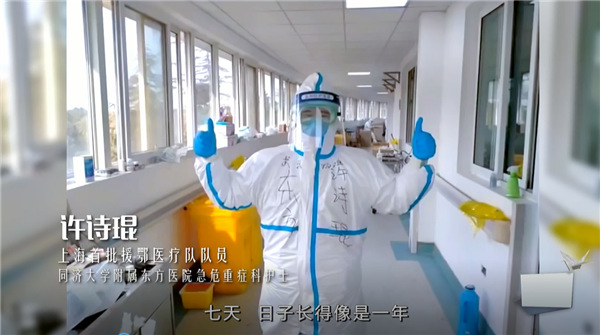 A screenshot of the TV show Letters Alive shows Shanghai nurse Xu Shikun at his workplace in Wuhan. [Photo provided to China Daily]
On the eve of Spring Festival, which fell on Jan 25 this year, Shanghai nurse Xu Shikun was having dinner-the most significant meal of the festival-with his wife, toddler son and parents.
But a call abruptly changed the atmosphere. The nurse, born in 1988, was asked to join the first batch of a 136-member Shanghai medical support team to go to Wuhan, the capital city of Hubei province, the epicenter of the novel coronavirus pneumonia outbreak.
His wife Xia Jianglin, also a member of the medical staff, wrote an emotional letter to convey the deep feeling of love and longing seven days after his departure.
In the latest and specially-made season of Letters Alive, a highly praised cultural TV show that invites celebrities to recite remarkable correspondence, actress Michelle Ye read Xia's letter with tears in her eyes.
"Now Lele (nickname of their son) is well behaved. He always supervises his grandparents to ensure they wear facial masks while going outside … He always warns us to be careful as there are 'monsters' (referring to the virus) outside, and proudly says his father is a hero who's fighting the 'monsters'," writes Xia, the devoted wife, in her letter.
The special season, with each of the 15 episodes spanning around five minutes, was released on the streaming platform Tencent Video since Monday.