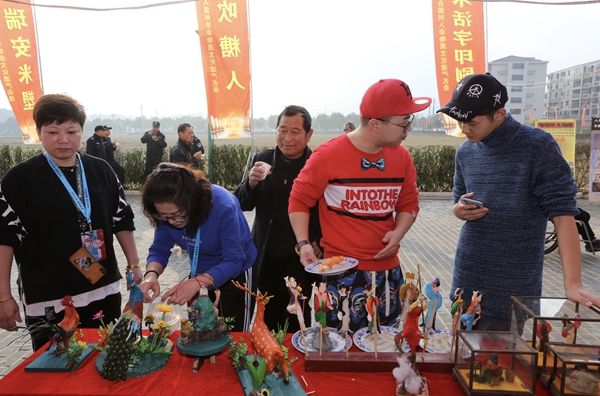 Artists display rice modeling, a city-level intangible cultural heritage in Ruian, Zhejiang province, outside the cultural auditorium in Gao'ao village, Mayu township in the city.[Photo provided to China Daily]
China's villages may, geographically, be on the outskirts of major population centers but culturally, they are taking center stage.
A myriad of activities organized by, and for, rural residents are giving a new life to long-established communities.
In East China's Zhejiang province, a pioneer in rural revitalization, 14,341 cultural auditoriums had been built by the end of last year. The initiative to do so was first launched in 2013.
These auditoriums serve as important bases for village dwellers to take part in cultural and artistic activities.
"Improving the rural social etiquette and civility in villages is key to revitalizing rural areas," President Xi Jinping wrote in an article concerning rural revitalization in the Qiushi Journal, a flagship magazine of the Communist Party of China in June last year.
Xi pointed out in the report to the 19th Communist Party of China National Congress that culture is a country's soul. He said:"Our country will thrive only if our culture thrives, and our nation will be strong only if our culture is strong."
Based on the communities' response to the auditoriums, five years ago, the Zhejiang government proposed the organization of grassroots galas in celebration of the Spring Festival with the aim of passing on traditional culture, enriching villagers' spiritual life and boosting cultural revitalization.
Villagers are encouraged to draw inspiration from their daily life and rural development, and organize, direct and present performances according to what they see and experience.
Official data from the provincial government revealed that in 2019, a total of 11,364 Spring Festival galas were staged by villagers around Zhejiang, entertaining nearly 5.7 million spectators. This kind of gala is now being promoted nationwide.
"Grassroots galas are close to people," said Che Jun, Party chief of Zhejiang, after watching a Spring Festival gala in Hangzhou, capital of the province, in February last year."These performances indicate that the building of cultural auditoriums is productive and it is quite hopeful for us to achieve cultural revitalization in rural areas soon."
On the evening of Jan 19, a gala of folk performances, including singing, dancing and martial arts, was presented in the cultural auditorium in Xingwan village, Yueqing, a county-level city in Wenzhou, Zhejiang. Shi Liangli, who was in charge of the auditorium's operation, was the director and host of the cultural feast.
Shi was designated to take charge of the building and operation of the auditorium in Yueqing in 2013, during the first year of the province's initiative to build the village auditoriums.
A former soldier, Shi initially had little knowledge about culture and art, so he asked for suggestions from village elders. He gradually unearthed the history and distinctive culture of Xingwan village during the preparation and it is now on display in the auditorium.
A number of art groups have been founded under the official's guidance. "We have groups and classes for opera, waist drums, tai chi and square dancing," says Shi.
He also notes that the cultural auditorium is a window through which the outside world can see a village's social etiquette and civility.
Art groups and classes are also seen in the Qingnianfang community of Wenzhou city. The auditorium in the community set up a bridge between the public and professional art workers through various training courses.
Le Suzhen, Party head of Qingnianfang, says, "One way to encourage people to participate in the management of the community is to organize cultural activities."
A timetable on the bulletin board outside the auditorium showed that on Jan 19, classes for singing, dancing, bamboo flute playing and Yueju Opera were available to residents in the community, as well as a series of lectures on writing, safety and political news.
"There are now 12 regular kinds of classes for people and some of them are always packed with participants," says Le.
"We also have 12 art groups and sports teams who take the lead in participating in public activities," the Party head adds.
Great things can be achieved with mass effort. Residents in Qingnianfang community have been inspired and show a stronger interest in joining public activities.
An elderly female resident, who prefers to remain anonymous, tells China Daily the rooms in the auditorium are open to the public for free."My friends and I come to practice Yueju Opera from time to time, which is a real pleasure for us."
According to Le, the solidarity and social cohesion among community residents is stronger than ever."Every time there's a need for helping hands, many residents volunteer."