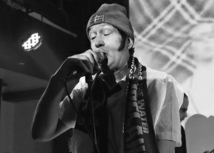 Hugh O'Hagan performs at a Beijing club. [Photo provided to China Daily]
Some Chinese have seen Hugh O'Hagan during his cameo in Danny Boyle's 1996 movie Trainspotting - and some saw him performing standup comedy in a packed theater in Beijing's Nanluoguxiang on New Year's Eve.
The Scotsman was the only foreign performer that night. He sang a Chinese song with amusing lyrics and clumsy rhymes while interacting with the audience.
"Everyone in Trainspotting became famous except me," O'Hagan says, jokingly.
He played the man in a frilly blue shirt, who fails to accost the heroine in a bar, around the film's 23-minute mark.
The small role failed to bring him fame. But it enabled the then Glasgow-based rock singer to develop more sidelines gigs, especially after he moved to China in 2009.
He has played dozens of walk-on parts in Chinese films and TV shows, including Jackie Chan's movie, Chinese Zodiac.
He's a spoken-English teacher in Beijing Jiaotong University and also works for Xicheng district's government, helping to prepare for the 2022 Olympic Winter Games.
O'Hagan, who's better known by his pseudonym, Hugh Reed, was fairly well-known in Glasgow since he once led the rock band, Hugh Reed and the Velvet Underpants, that performed in local clubs and even toured Europe.
The band's first single, Six to One, was used as BBC Radio 1's theme song for a program on Scottish rock music in the early 1990s.
The group was invited by Deborah Harry, the British lead singer of the band Blondie, to join her tour in the United Kingdom in 1993.
"These are the highlights in my life," says O'Hagan, who later founded a band named Hugh Reed and the Electric Shadows in Beijing, with members from the UK, Spain and France.
"I like Beijing's music scene, which is very international," he says.
"You can find about half of the audiences are foreigners. The other half are Chinese."
He believes Beijing musicians have more show opportunities than their counterparts in New York, where the market is saturated.
O'Hagan and his new band usually rehearse on Mondays and stage gigs at Dusk Dawn Club and other live houses on weekend nights.
He changed costumes and used props at a recent show.
And he leapt from the stage into the crowd and jumped atop a table during the performance.
"People might get dozy during a show," he says.
"We fuse comedy with songs to avoid being boring."
He uses a similar approach in class.
"The atmosphere of O'Hagan's English classes is very active as he often asks us to do various activities like role playing or dubbing," 19-year-old Zhang Zihe says.
"He helps me know more about Scottish culture."
He integrates Beijing elements into his music. For example, one of his songs was inspired by Peking Opera and the voice of the Beijing subway announcements.
"Beijing is such a mix of modernity and tradition, which is different from some Westerners' stereotypes," says O'Hagan.
"I would like to strengthen the bond between China and my hometown via my songs and classes."